Peru continues to be at the forefront of a food movement that celebrates the incredible ingredients and flavors that come from the Andes and the Amazon along with its thousands of years of food history. During my food mecca to Lima, I enjoyed savoring creations from food entrepreneurs in established eateries to alley food boutiques that mix locally-sourced foodstuffs into combinations that blew my palate.
My addiction in Lima quickly became the pisco sour! ♣
---
Lima: A Food Mecca  
Lima is the "Gastronomical City" of Latin America. The capital of Peru, Lima was founded in 1535 and originally named as Ciudad de los Reyes (City of King). As a food mecca with award winning chefs and restaurants, this is where my love affair with comida Peruana (Peruvian food) was crystalized. 
Now famous for its spicy and savory dishes, Lima was brought to the world stage around 2008, including in a feature by Bon Appétit which described Peru as "….blessed with an almost ludicrous variety of natural resources, from the great seafood of the Pacific coast to the vegetables of the temperate highlands of the Andes to the wild tropical abundance of herbs and fish from the Amazon."[1]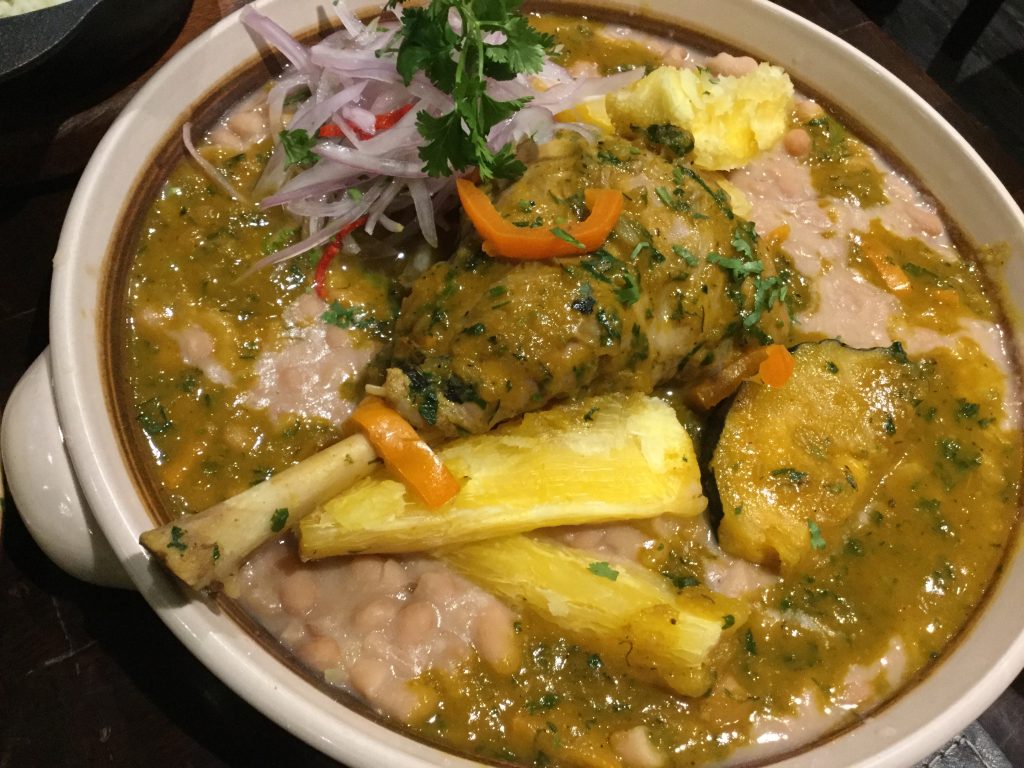 My "first date" with comida Peruana started at Panchita that specializes in ancient and contemporary Peruvian comida criolla (Peruvian creole food) by combining fresh ingredients and seasoning that honor the tradition and culture of Lima. This restaurant is located in the Miraflores neighborhood, the top foodie destination in Lima. 
At Panchita, my friend Sheila who lives in Peru and I indulged in seco de cordero (lamb stew), slowly cooked in a cilantro sauce with yuca (also known as cassava or manioc), frijoles (Peruvian beans), and papas (Peruvian potatoes).
Cilantro was introduced by the Spaniards. Frijoles are called "the king of the bean" due to their buttery flavor, discovered in a cave in the Peruvian Andes prior to the Inca Empire. Yuca was a staple food for the pre-Columbian people in the Americas and is often featured in indigenous art. There are thousands of varieties of Peruvian papas, one of three main staples of comida Peruana (more below on papas).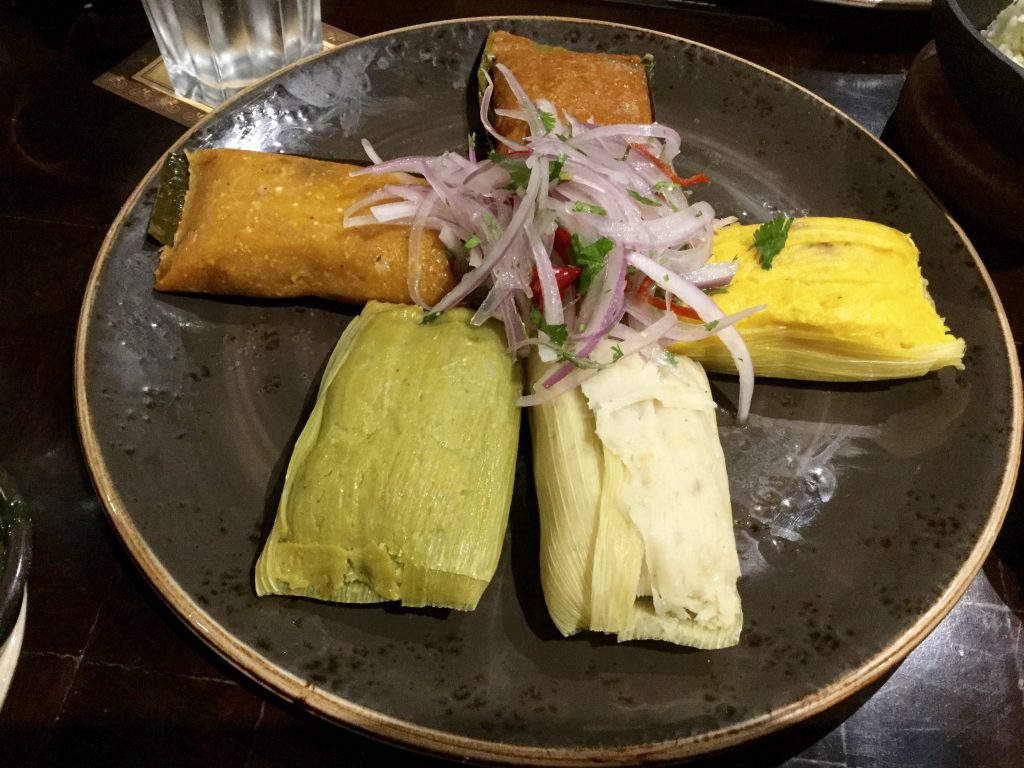 We also indulged in delectably prepared tamalitos, a typical dish of the Amazona region in Peru. Tamalitos are similar to the tamale from the Pervian coast, but are smaller and drier. Tamales originated in Mesoamerica as early as 8000 to 5000 BC and used as 'mobile' food for their armies, hunters, and travelers.
Our dish included 5 tamalitos, each with its own unique edible taste—choclo (a field corn, also known as Peruvian corn or Cuzco corn, known for its large white kernels from the Andes – video); maíz (type of corn from Cuzco, also known as the food of the Inca); verde (prepared with white corn and green corn husks – video, recipe); alcachofa (made with artichokes and yellow corn); and marchita (a no-thrills version).
Lima embraces food histories from four continents. Peruvian cuisine is an unique fusion of flavors and textures that draws on ingredients from the local Andean culture (including Inca cuisine) with those introduced by others over the centuries from Europe (Spanish, German, and Italian), West Africa, and Asia (Japanese and Chinese). More recently, there has been a local presence of Arab cuisine.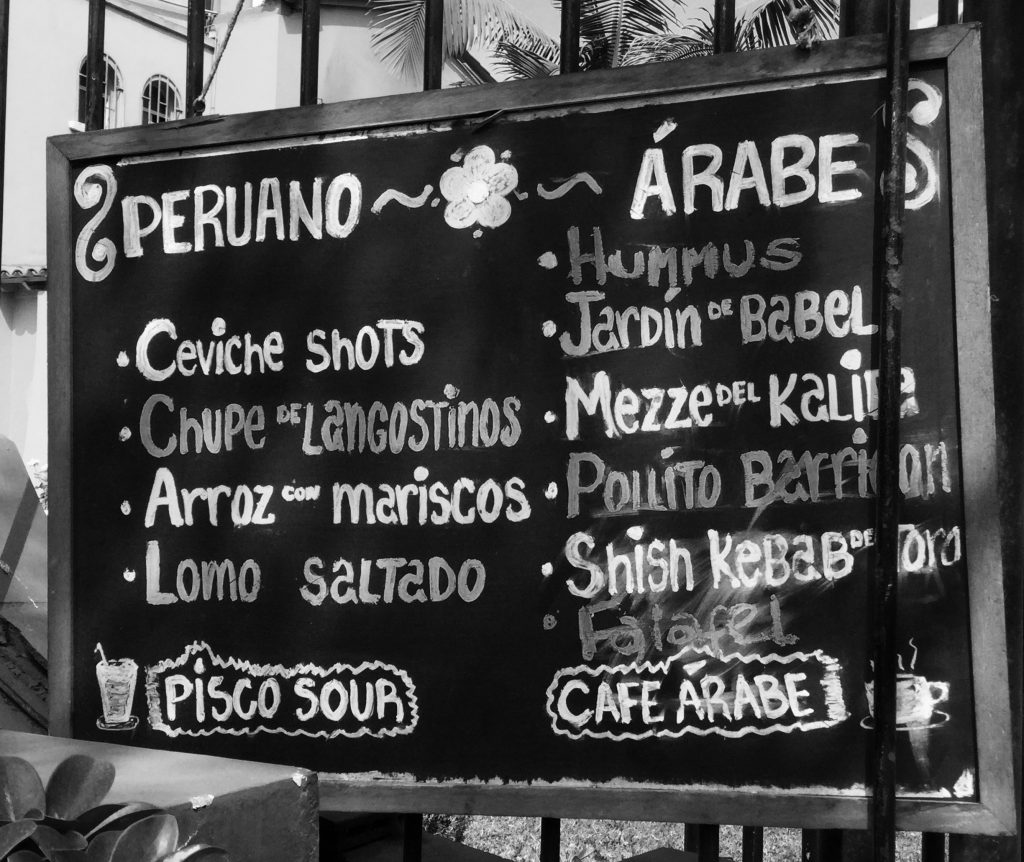 The first settlers to have reached Peru around 6,000 BC are likely to have migrated from Asia.[2][3] These early nomadic tribes relied on hunting, fishing, gathering of fruits and plants, and migrant agriculture. By 5,000 BC, small communities were cultivating potatoes, chili peppers, and maize. By the time the Incas came to power in the 1400s (they originated as a pastoral tribe in the Cuzco area around the 12th century), they survived mostly on maize and potatoes planted on steep hillsides which are still visible today.
Let us not forget the ancient rich grains that originated in Peru—quinoa, kiwicha, Kañiwa, maca, and tari—are traditional foods of Peru and increasingly seen in cuisines worldwide.[4]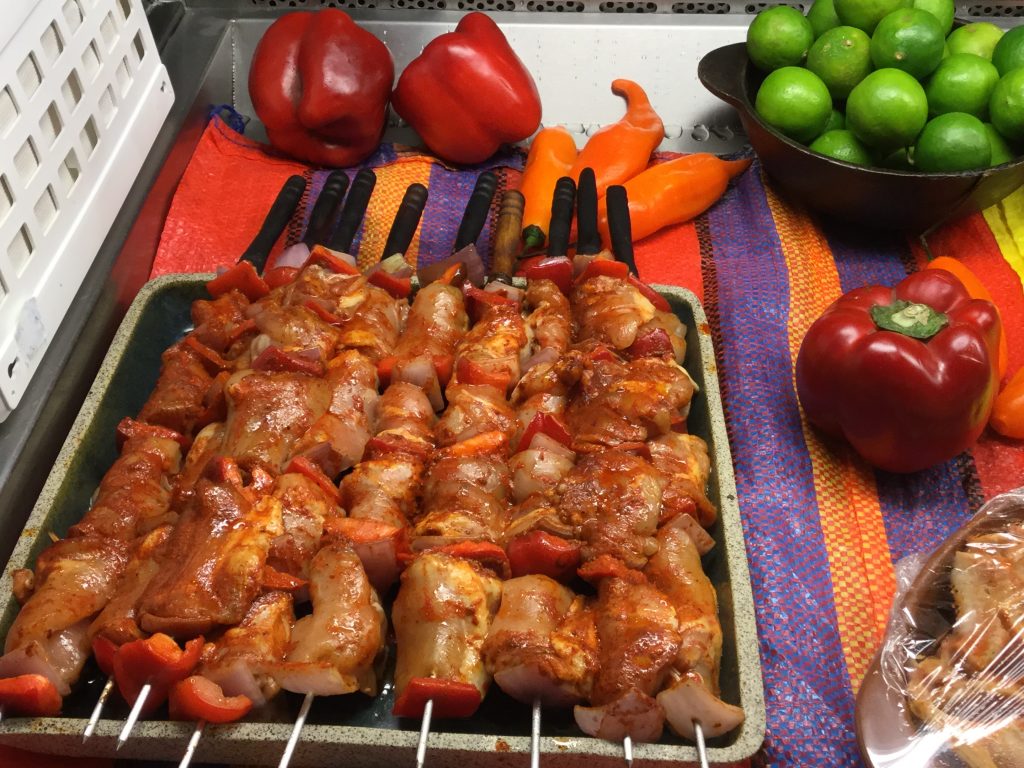 Spanish rule over three hundred years in Peru from 1528 to 1821 had a significant influence on Peruvian cuisine.[5][6] The Spanish introduced lamb, beef, chicken, and pork which have become part of the country's cuisine. In particular, Anticuchos—skewers of marinated, grilled chicken, pork, and beef—are found everywhere today at top restaurants to street vendors, and trace their roots to the Spanish colonial era.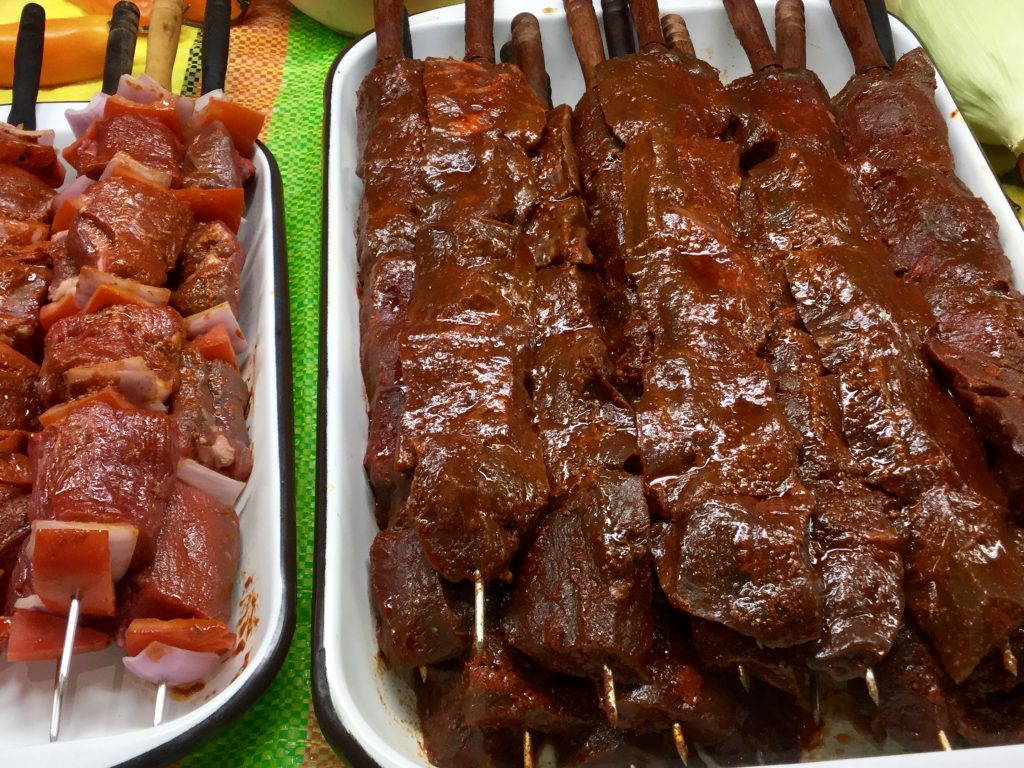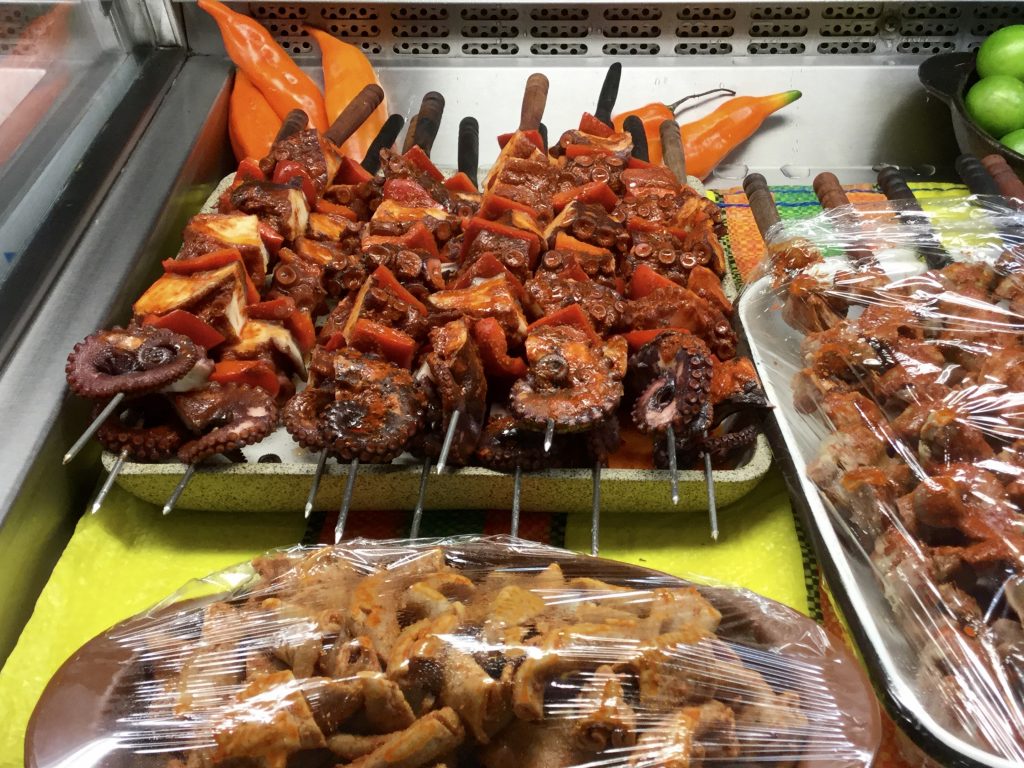 The Spaniards also introduced European crops, including wheat, barley, beans, rice, and other foods such as cilantro as mentioned earlier.
---
Potatoes—Corn—Chili Peppers: Three Main Staples of Comida Peruana
Many Peruvian dishes make use of potatoes, corn, and chili peppers—the main staples of comida Peruana.
Potatoes: There are over 3800 types of different types of potatoes in Peru, considered the "Potato Capital of the World."[7][8] Seriously! Papas in Spanish—and originally referred to in the Quechua language to simply mean tuber—potatoes may have been domesticated 10,000 years ago in the Andes of southwestern Peru and northwestern Bolivia.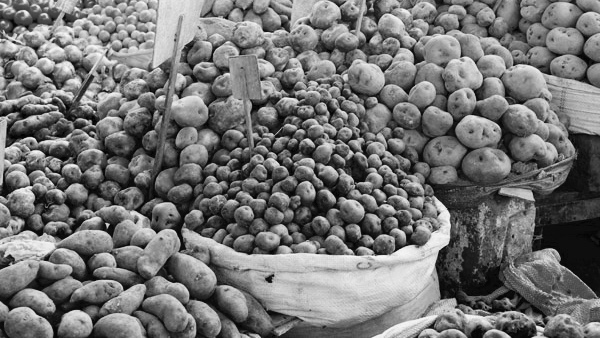 The oldest verified archeological findings of potatoes were found in the coastal area of Ancón in Central Peru dating 2,500 BC and later found in the Altiplano site of Chiripa on the east side of Lake Titicaca.[9] In the Altiplano, potatoes were a key food source for the Inca Empire.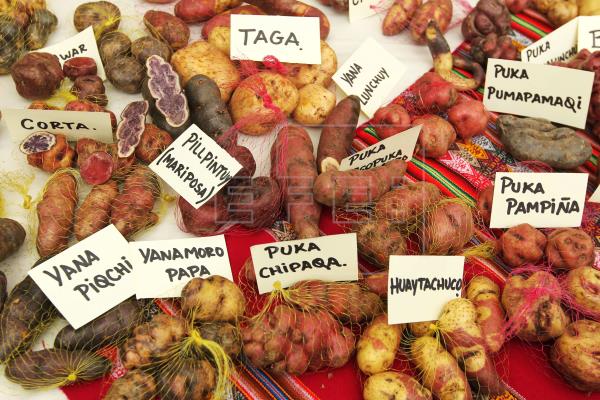 Today, China and India are the largest producers of potatoes, but Peru continues to produce the largest amount of potato plant varieties.[10]  And, new varieties were just discovered in Peru earlier this year, announced by the country's National Institute of Agricultural Innovation.[11] Potatoes not only continue to be a main staple in Peru, but worldwide.
You can hear Peruvians say "Soy mas Peruano que la papa." (I am more Peruvian than a potato.)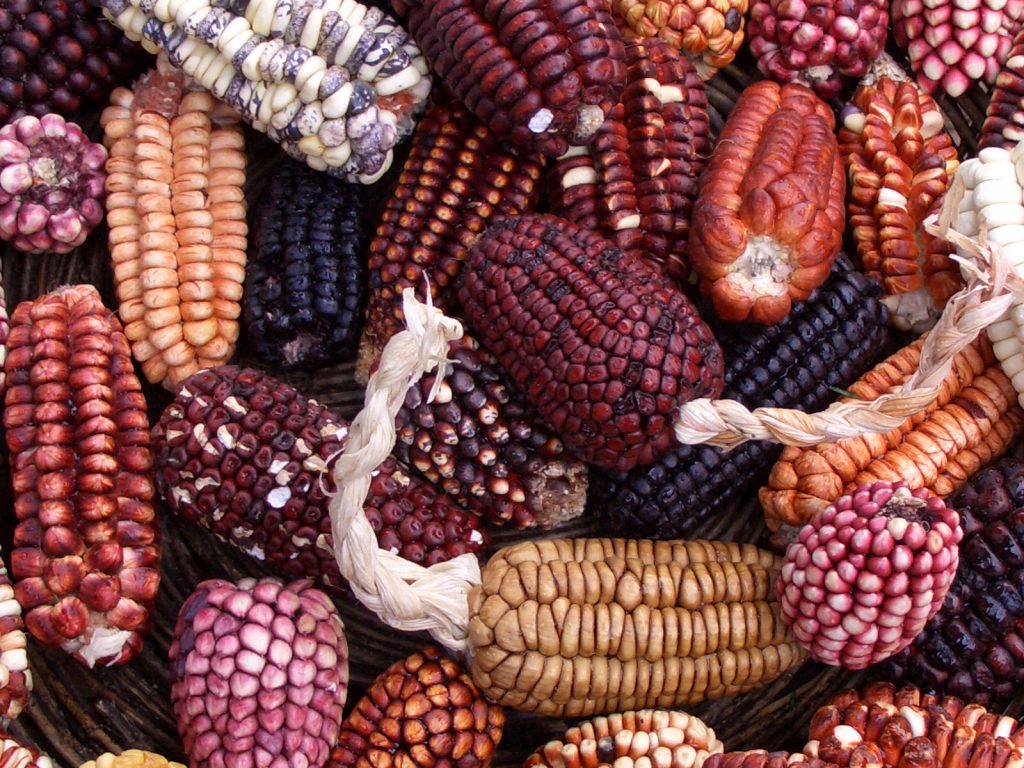 Corn: There are 35+ varieties of corn in Peru, more than any other country in the world. Corn comes in lots of colors, including white, red, yellow, purple, black, and mixed. Archeological evidence indicates that corn was likely domesticated in Mesoamerica and from there made it south to Peru.[12] 
Corn is integral to Peruvian ancient, regional, and contemporary dishes. Corn is used to make tamales, humitas (or humintas), and tamalitos (including the ones we had at Panchita; see above), made in a range of colors and flavors (sweet and savory). Tamales originated in Mesoamerica as early as 8000 to 5000 BC. Ancient civilizations used tamales to feed their armies, hunters, and travelers on long distance voyages.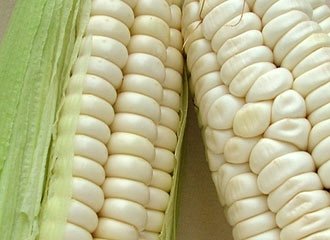 Corn is also used for chicha morada, a drink made from purple corn, and chicha de jora, fermented corn beer. During colonial times, corn was used to make humita and bread for special events, like the Inti Raymi (Sun Festival). Soltero, a dish made with corn along with beans, tomatoes, onion, and fresh cheese, is from Arequipa.
Choclo (also known as Peruvian or Cuzco corn), a type of field corn with giant size kernels, is one of the most widely consumed foods in Peru. It is white and grows only in the Sacred Valley near Cuzco in the southern Peruvian Andes. This corn was cultivated in Peru around 1,200 BC, and while others have tried to grow choclo in other parts of the world, the kernels do not grow as large as in Peru. Choclo is served with ceviche and other dishes; toasted and salted it is served in restaurants and bought from street vendors; and ears of choclo served with cheese are popular street fare.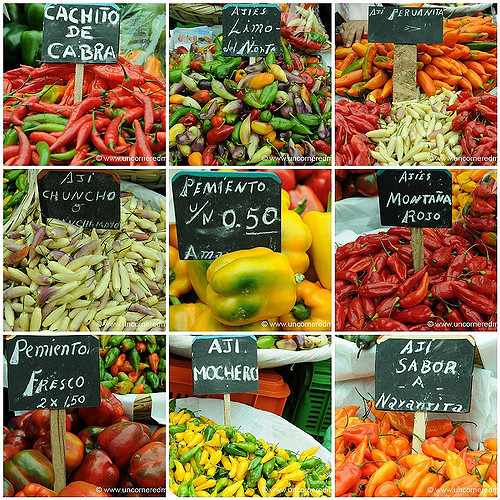 Chili Peppers: There are over 300 varieties of aji (Peruvian chili pepper), an essential ingredient to Comida Peruana. Aji armadillo (Peruvian yellow chili pepper) is considered the most important ingredient in Peruvian cuisine. Other top varieties include aji rocoto, aji panca, aji mirasol, and aji limo. Peru has the highest cultivated diversity of Capsicum chili peppers as this is where the five domesticated species of chili peppers were introduced, grown, and consumed prior to the arrival of the Spaniards.[13]
Now, Peruvians love (LOVE!) a good salsa (sauce), and most Peruvian sauces contain aji along with herbs and lime juice. These sauces are served with just about anything, and most meals come with at least three or four different types. A salsa intensifies the flavor of local dishes, and salsas range in flavor from mild to spicy to hot.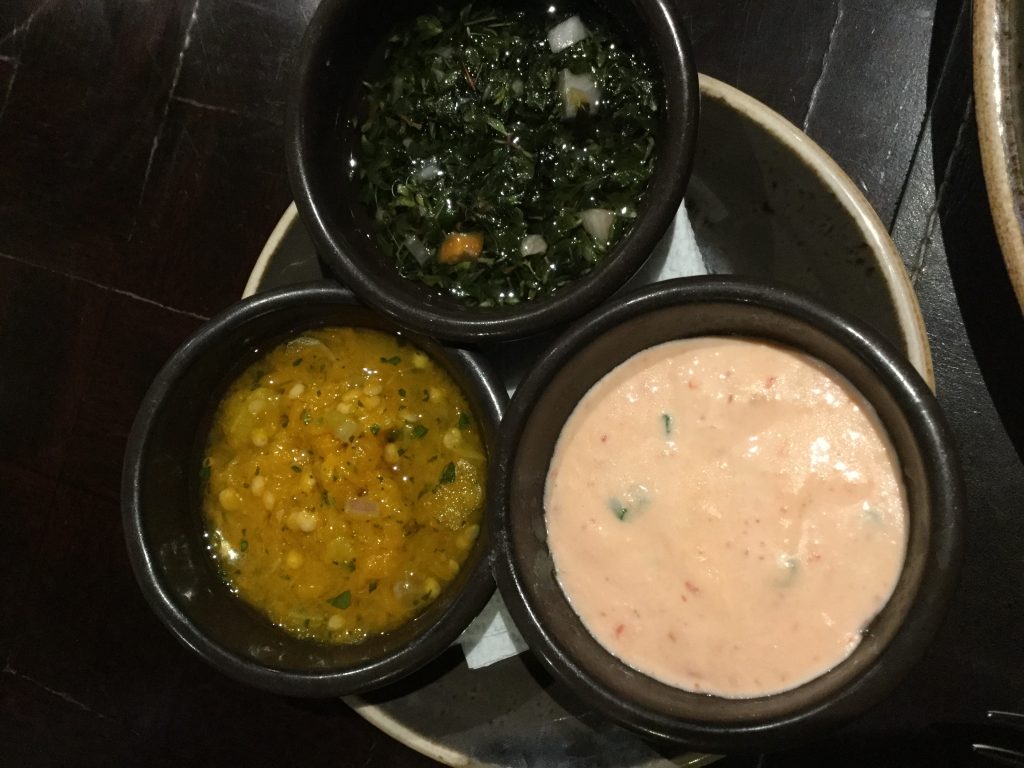 Salsa Criolla is the most popular, prepared with aji armadillo, red onions, and limón Peruano (a highly acidic, tart Peruvian lime with a unique flavor like no other).
Salsa de Aji (yellow chili sauce) made with aji armadillo and oil is a must indulgence. This sauce is prepared from moderately to extremely hot and accompanies fish and meat dishes, fries, and even bread. It is a true rush devouring this sauce!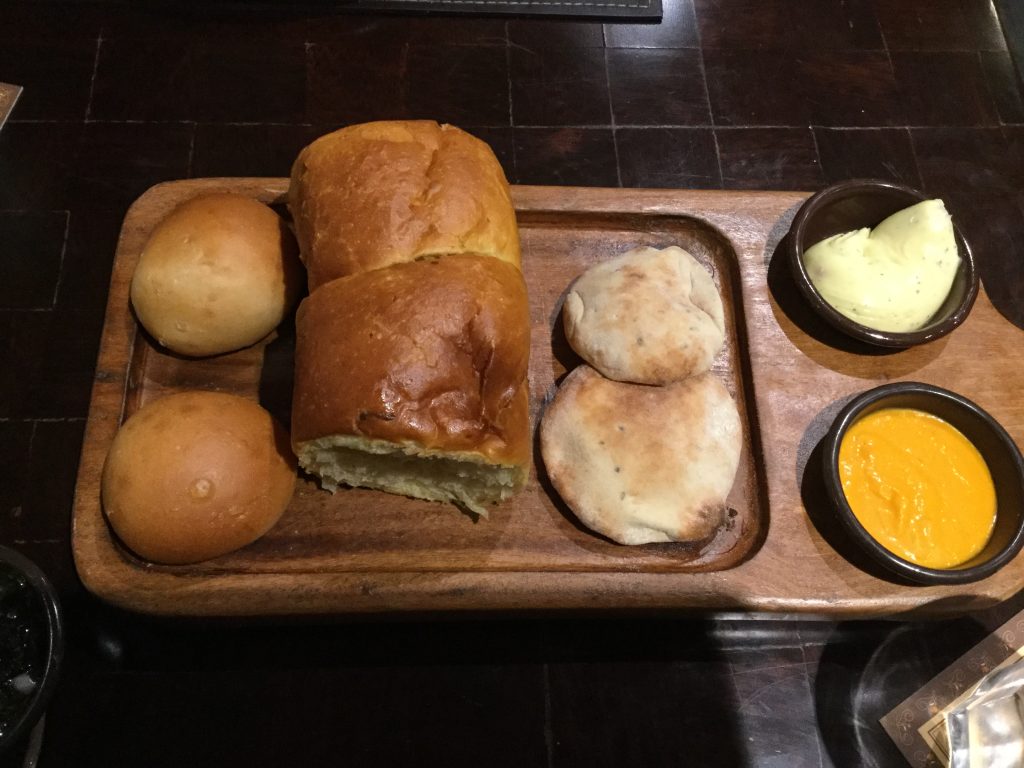 Rocoto relleno, a stuffed pepper that uses a super hot Capsicum chili pepper as the star of the show, is originally from Arequipa. This chili pepper is stuffed with ground beef, garlic, and hard-boiled eggs, topped with cheese, and then baked. If you like spicy, this is for you and me!
---
National Gastronoical Treasures: Ceviche + Pisco Sour
Now, a love affair with comida Peruana must include ceviche, Peru's national dish; and pisco sour, the national drink. Both use limón Peruano, a key ingredient to Peruvian cuisine.
Cebiche! In Peru, it's cebiche! The name of this dish may be spelled variously as cebiche, ceviche, or seviche. The classic ceviche dish is made simply with raw fish cut into cubes (usually sea bass) and marinated ("cooked") for just minutes in limón Peruano, salt, onion, and aji. It is served cold with choclo and camote (sweet potato) usually included to add balance to the dish's texture. The marinade is know as leche de tigre (tiger's milk).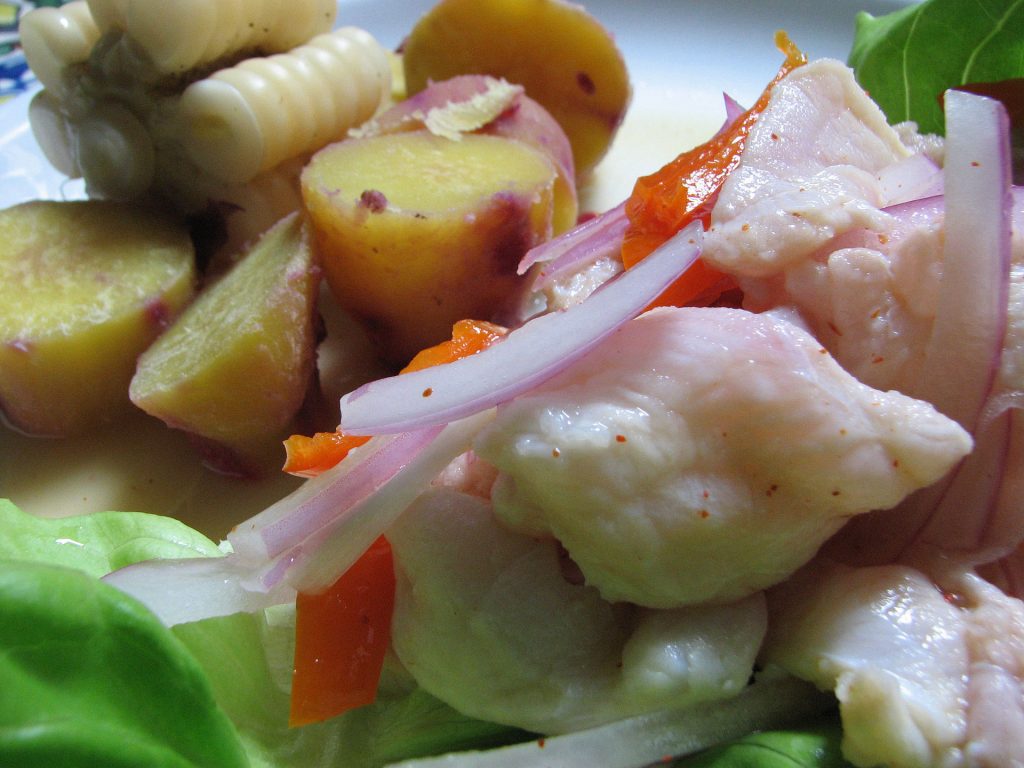 While the Peruvians started the ceviche craze, the dish dates to the colonial times. It was the Spaniards who introduced the lime to Peru (and other citrus fruits), however, there is archeological evidence that the Incas preserved raw seafood with a fruit juice indigenous to Peru. The dish itself could have originated in Spain with roots to the Moors who had a significant influence on Spanish (and Portuguese) cuisine during their hundreds of years of rule in the Iberian Peninsula.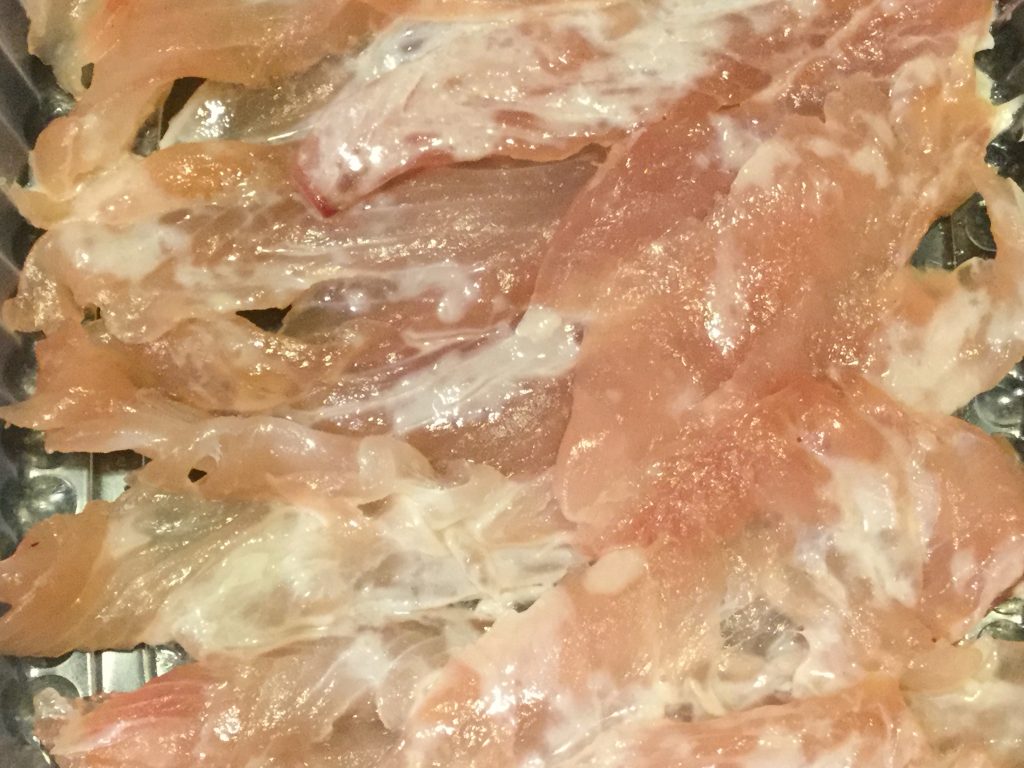 I tried tiradito, a local Japanese sushi-style inspired variation of the classic Peruvian ceviche dish, introduced by Japanese immigrants. It is made with sushi-grade fish sliced into thin strips instead of cubed and marinated just before it is eaten.[14] I'm its newest fan!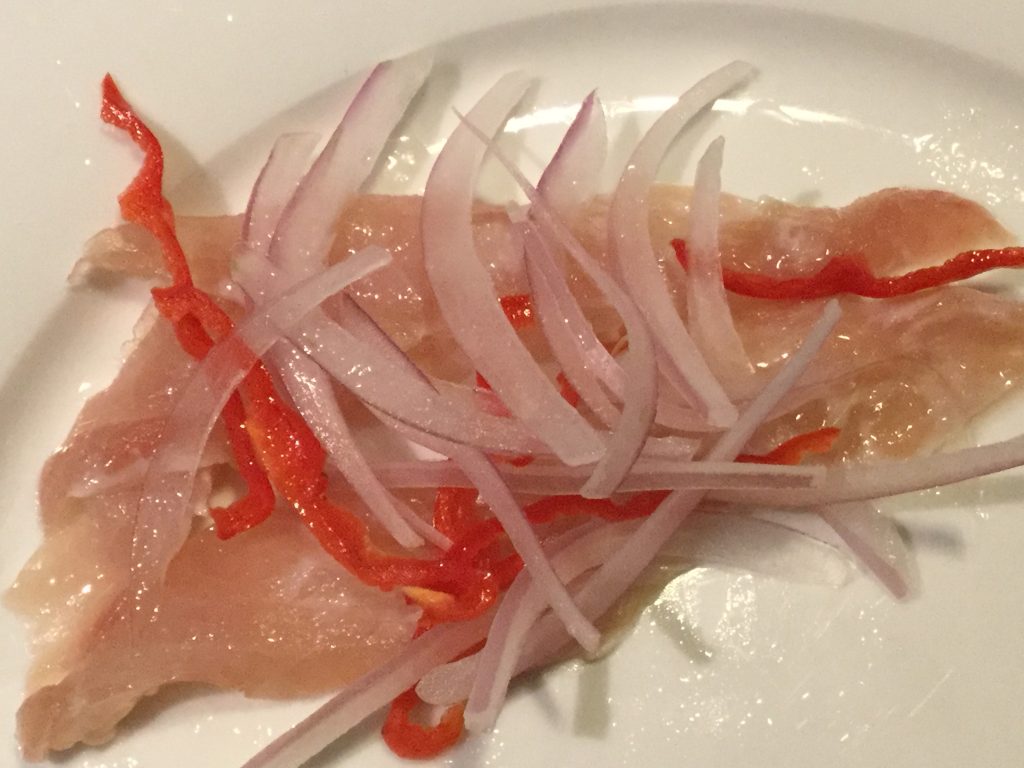 Where's the Pisco Sour!?! The pisco sour was invented in Peru, a drink made with Peruvian pisco (fermented grapes), limón Peruano, sugar (or syrup), egg white, and ice. This cocktail originated in the early 1920s in Peru, and today is found everywhere. 
There are three types of pisco—Puro (Pure), Acholado (a blend) and Mosto Verde (green).[4]  The Quebranta grape is the strongest of all grape varietals used to make pisco.
The first grapevines were brought to Peru by Spanish settlers sometime in 16th century, most likely on route from the Canary Islands. The first winemaking was in Cuzco, and the most prominent and largest vineyards of the 16th and 17th century in the Americas were located in the Ica Valley in south-central Peru.[15]  According to our friends at Panchita, Negra Liston and Mollar are the first grape varietals that reached Peru, and the grape Quebranta was their offspring, born in the Iqueño desert, located in Ica Valley.
Peru celebrates National Pisco Sour Day on the first Saturday in February.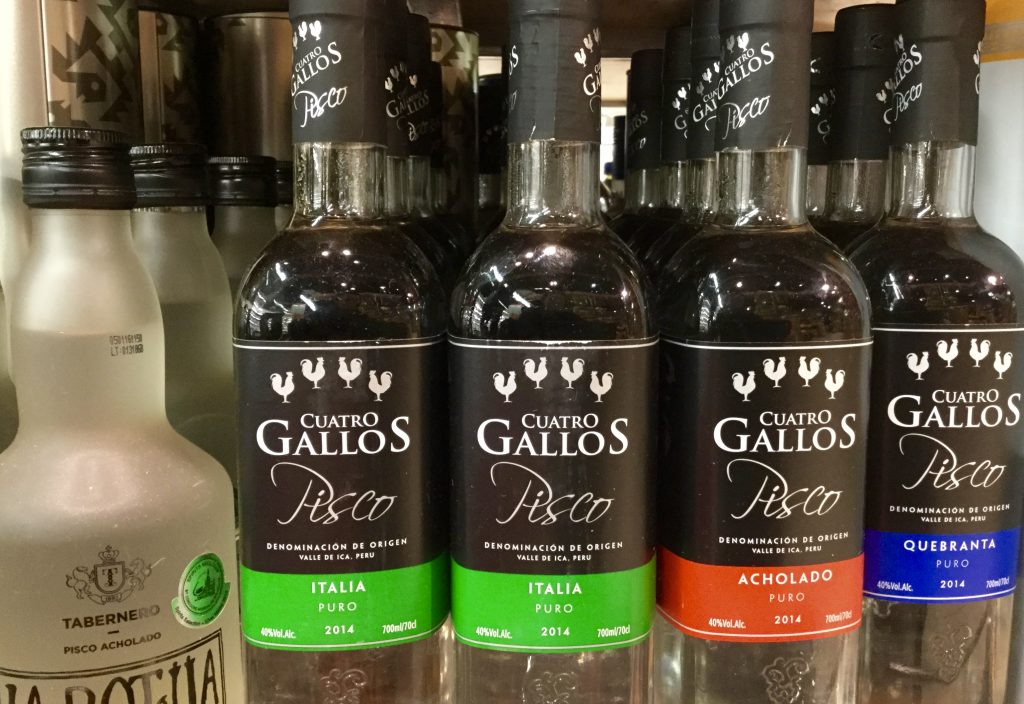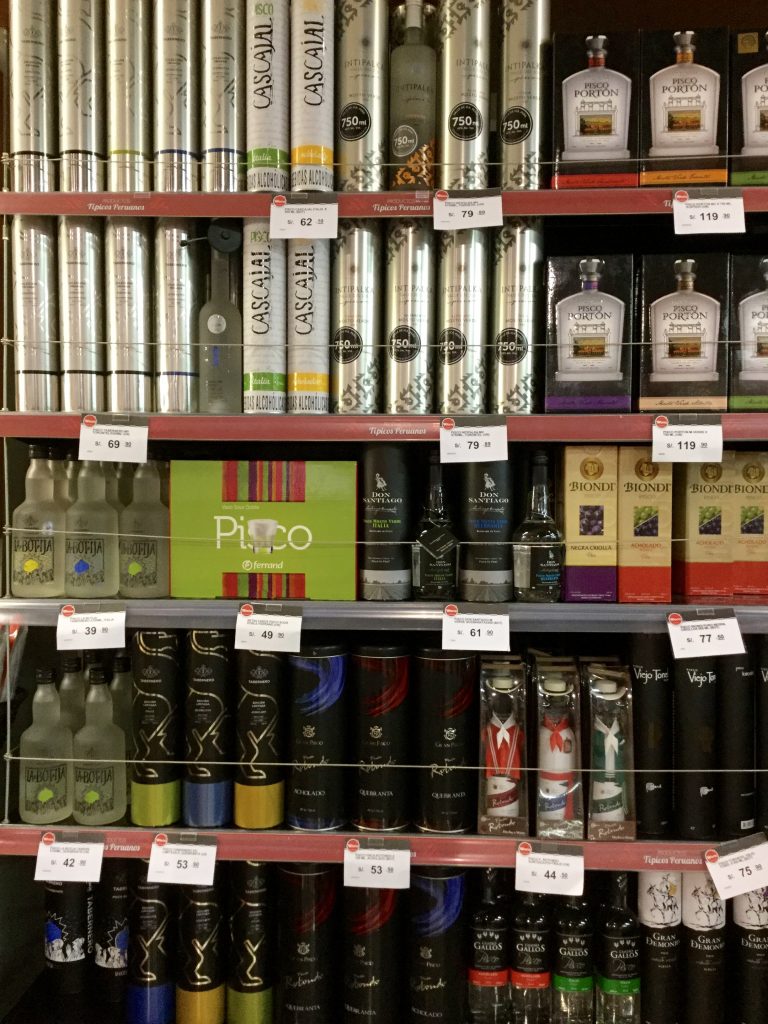 While at Panchita, I learned and found it amusing that local folklore has it that in the 1950s pisco sour aficionado Peruvian President Manuel A. Odria could not find a single bottle of pisco sour left in the palace. This led to the minister of the interior asking pisco producer Don Themistocles Rocha to urgently replenish the stock at the palace. Well, something happened during the distillation process and the batch of pisco that resulted tasted a lot different, and the pisco Mosto Verde (green type) was born!
Peru produces some excellent red wines. To accompany our dinner at Panchita, my friend Sheila wisely chose a 2011 Intipaka Valle del Sol No. 1, a dry blend of Cabernet Sauvignon, Tannat, and Shiraz grapes, for us to enjoy.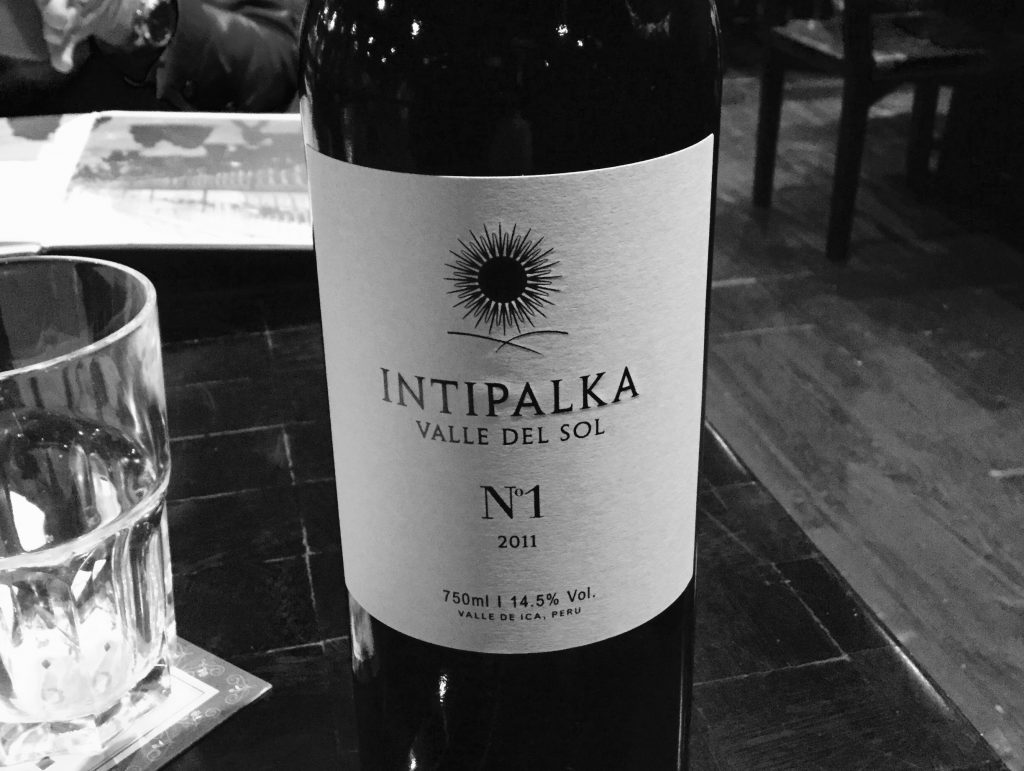 ---
During my gastronomical journey in Lima, I came to appreciate that comida Peruana TRULY celebrates locally-grown and sourced ingredients for its traditional and contemporary cuisine. Indigenous groups understood the relationship between what they ate with where it came from, nutrition, and health. Today, Comida Peruana celebrates this connection.
From place to place—whether big or small, acclaimed or upcoming, engineered by a chef or a makeshift cook—I asked what we were about to eat and from where it came, the answer was mostly always food products and ingredients that were locally sourced and grown. Peruvian Chef Gaston Acurio—who has established Peruvian restaurants worldwide and a global ambassaor for comida Peruana (including La Mar Peruvian Cebicheria in San Francisco—is well known for raising awareness of local ingredients. My food experience in Lima created a sense of connection to the food I was eating not to mention the incredible multi-dimensional flavors unique to Lima.
I am fortunate to have excellent Peruvian restaurants in the San Francisco Bay Area and more and more of them worldwide to fall in love with as I wander; yet, the best comida Peruana is still found at its origins in Lima. ♠
---
Some Afterthoughts
I am grateful to Danny Kou, Executive Chef at La Mar Cebicheria Peruana in San Francisco, for recommending excellent venues to taste comida Peruana in Lima.
On a future trip to Lima, the Mistura Food Festival—"la feria gastronómica más importante de Latinoamérica"—is a must. It is a gastronomic event with hundreds of restaurants, street food vendors, farmers, food learning stages, and more that takes place annually in September in Lima, attended by 600,000+ food curiosos.
There are so many excellent food venues in Lima. La Pinta Restoarte is a restaurant in Miraflores I found rather by accident (best way to explore!) in the midst of upscale restaurants. This place celebrates art with good food, and is located in an old colonial house with large murals and serves Menu del Dia. The upstairs with several small tables and more murals seats no more than 15 and is a delight. Try the fried plantains or the chicken with corn and bean sauce.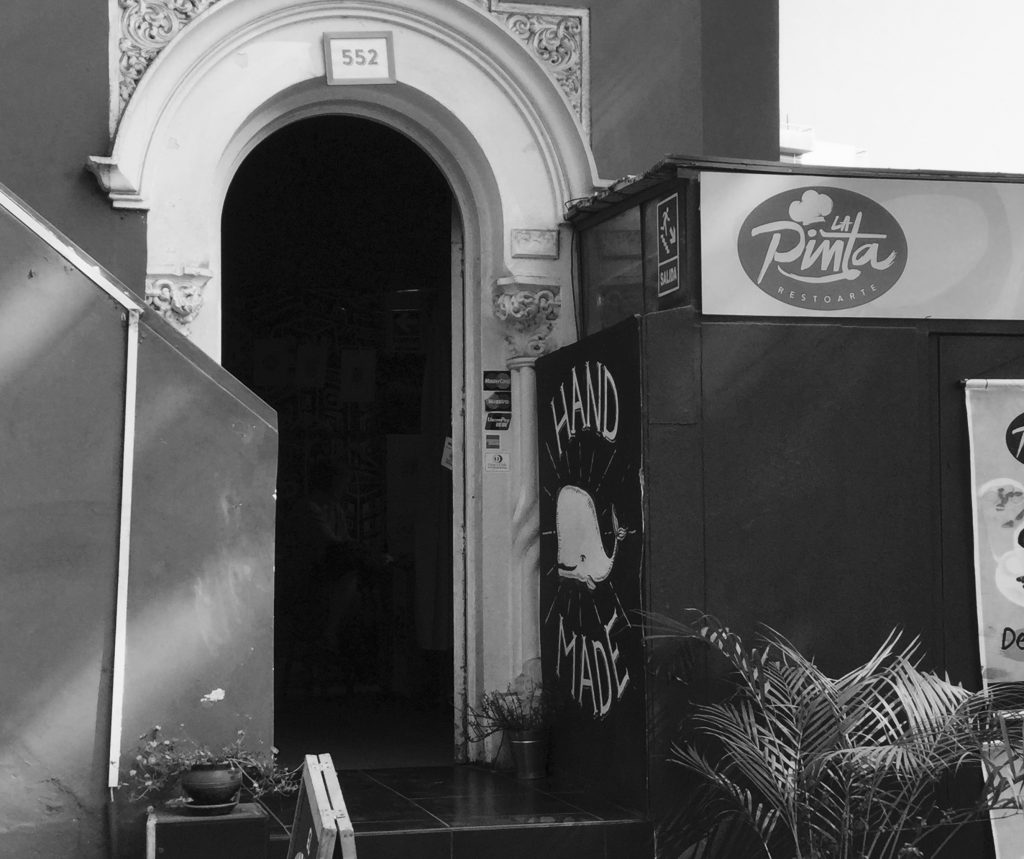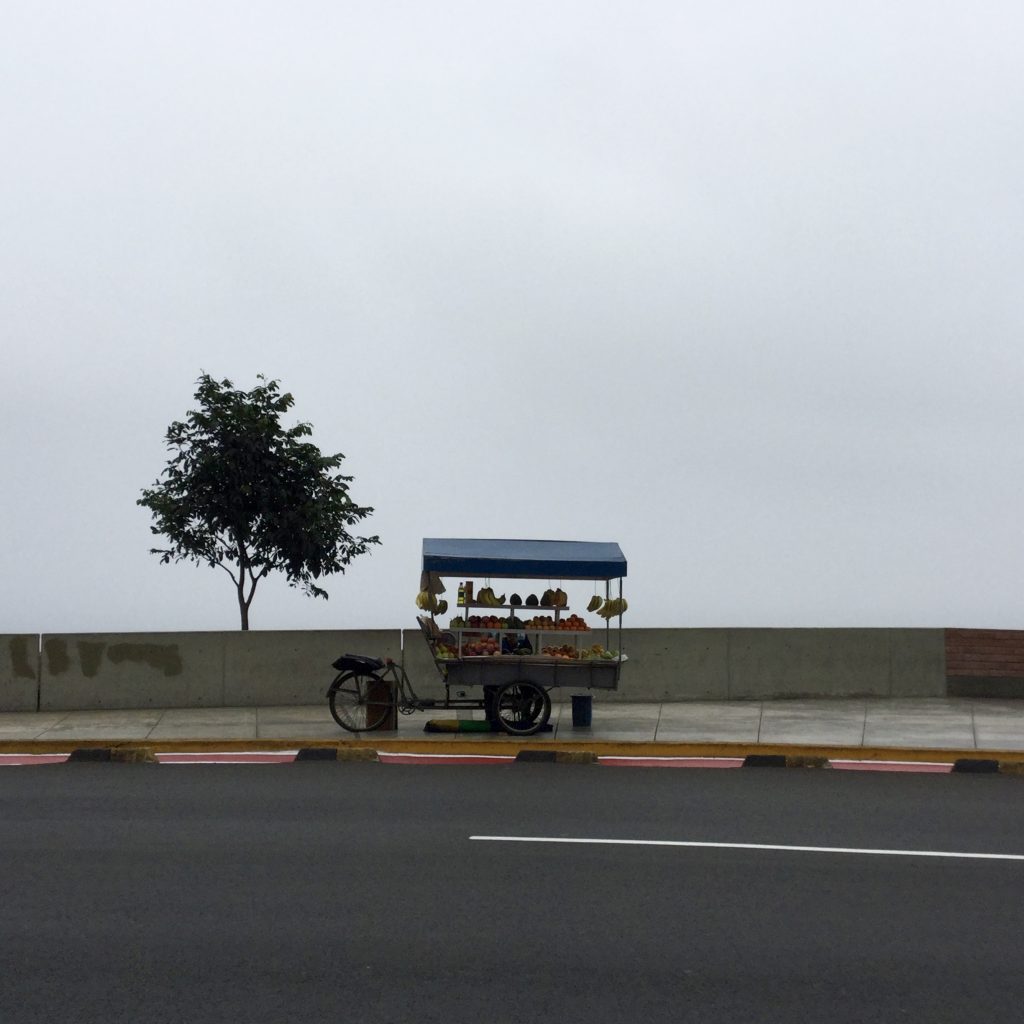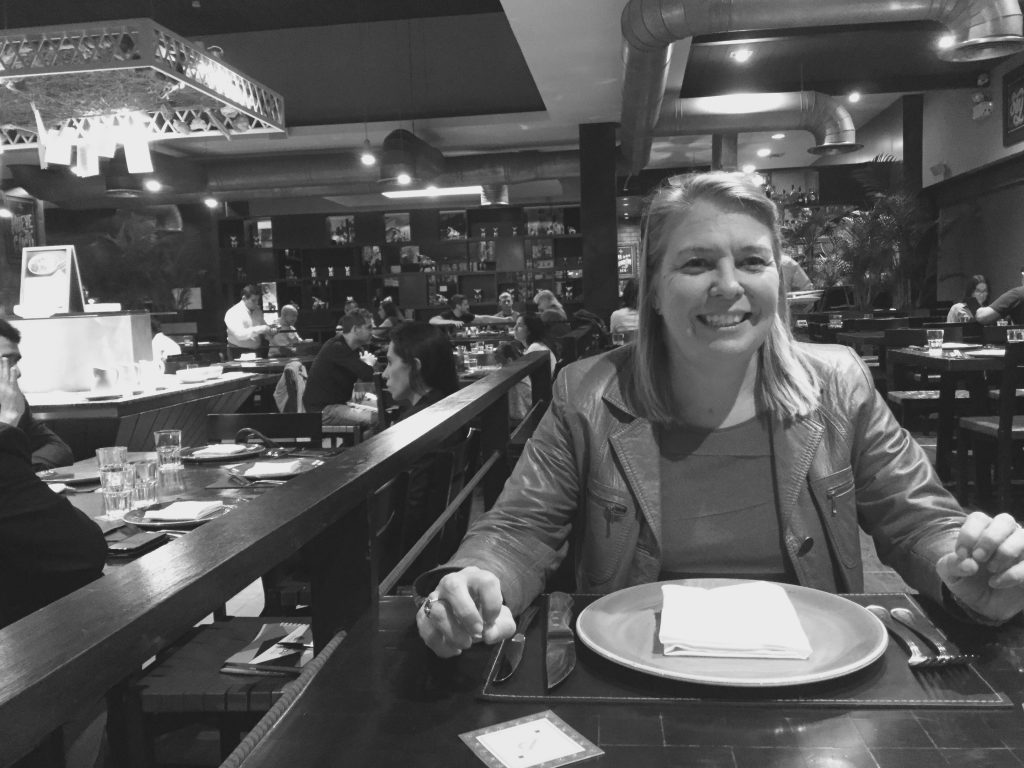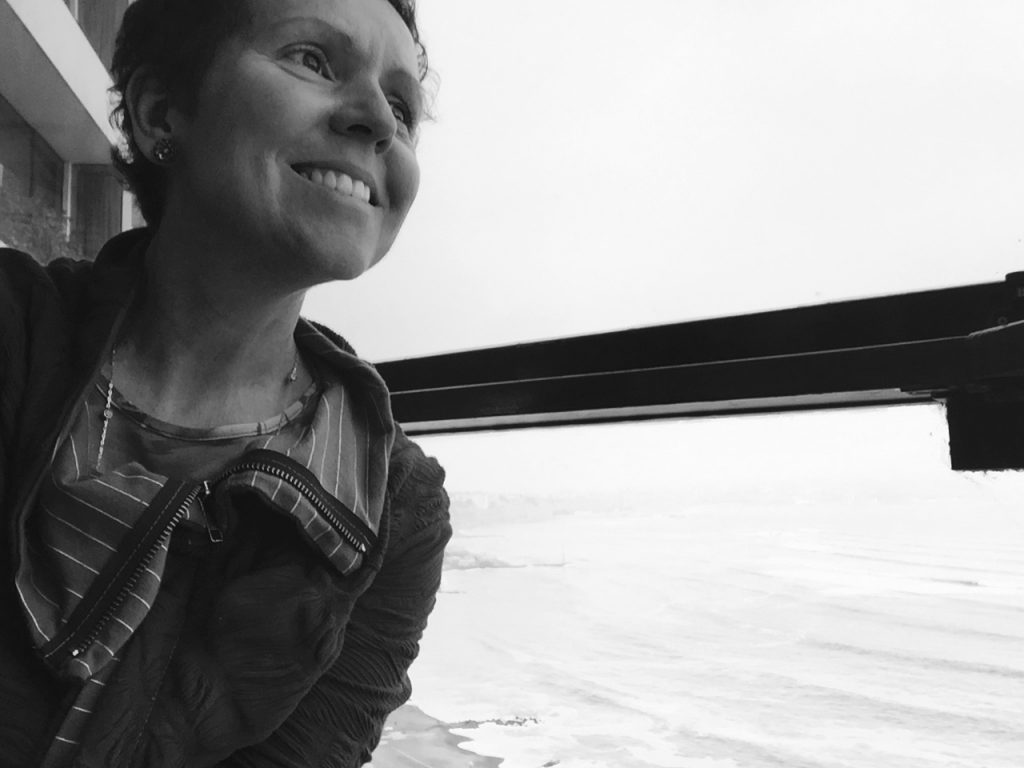 **All photos and images are copyrighted work of Venilde Jeronimo unless otherwise noted.