Food Series on Portugal—More than just Bread & Wine                     
To indulge my curiosity in the history of Portuguese food and cuisine—given my Portuguese roots—I dive into Portugal's rich past. In a Food Series on Portugal, I will explore in separate posts the influence and legacy of the Romans, Moors, and Europe's Age of Discovery. I will also share my experience with unique foods and dishes of São Miguel, the largest of 9 volcanic islands in the Azores where I spent my childhood before immigrating to the San Francisco Bay Area with my family. These food stories, along with others focused on Portugal and its diaspora, are meant to wet our appetites into the influencers of Portuguese food and cuisine.
I do not shy away from Portuguese bread and wine, the two main staples of Portuguese cuisine. But, there is so much more! As we will discover, Portuguese cuisine is considered Mediterranean, yet its simple, rustic foods with unforgettable and rich flavors make it distinctive.
Join me in this gastronomical journey. ♣ 
---
Romans in the Iberian Peninsula 
The Romans ruled the Iberian Peninsula for six hundred years with the first invasion around 210-219 BC. The Romans established a capital in Olisipo (modern day Lisbon) in 60 BC that became the Roman's strategic administrative center for the province of Lusitania, and rooted Christianity in Portugal during 3 AD. By 5 AD when the Roman Empire had all but collapsed, the Romans had built an extensive network of roads, bridges, and aquaducts; established a legal system; and brought Latin, leading to the Portuguese language.
The Roman road network in Portugal is considered the largest civil engineering feat from Antiquity in the country, and many of these ancient Roman roads are still in existence today.  There are significant Roman sites throughout Portugal.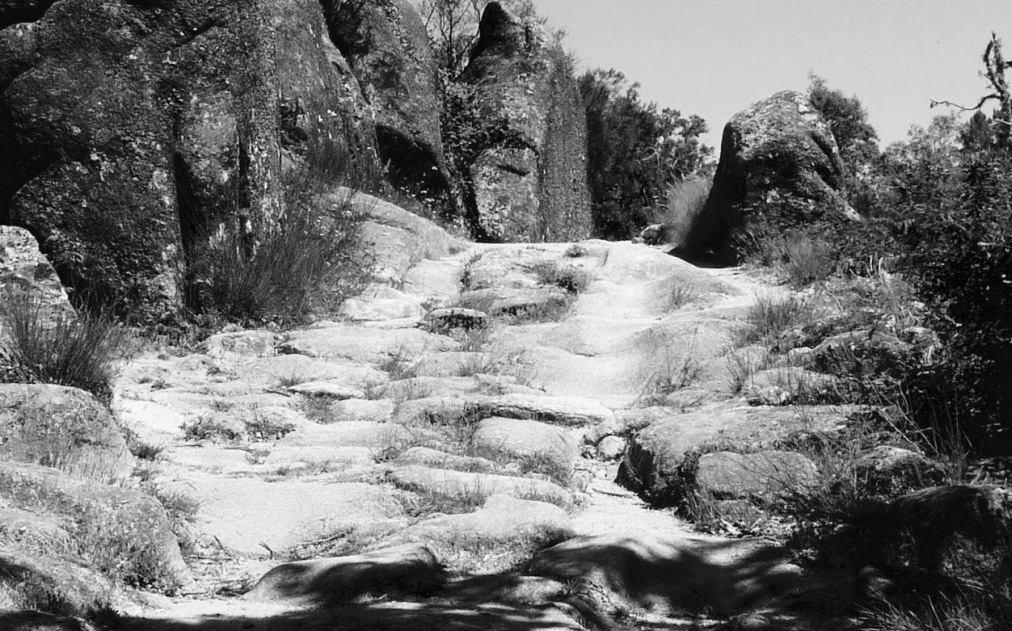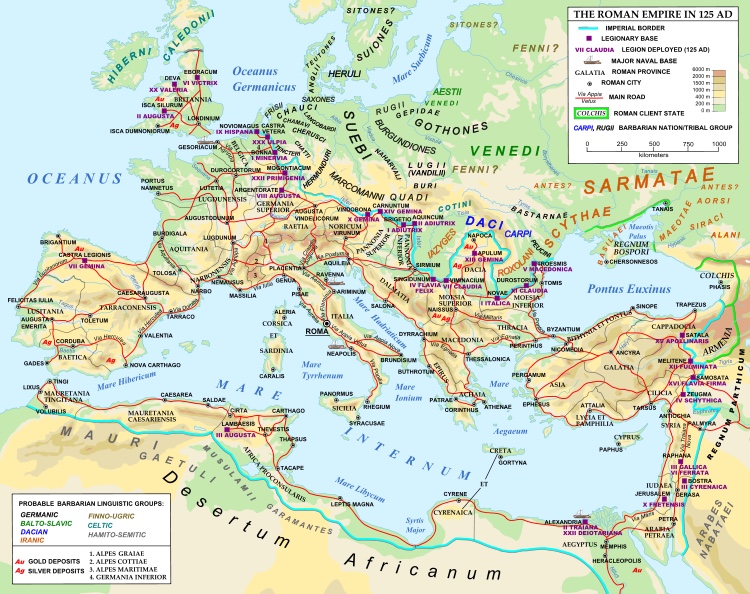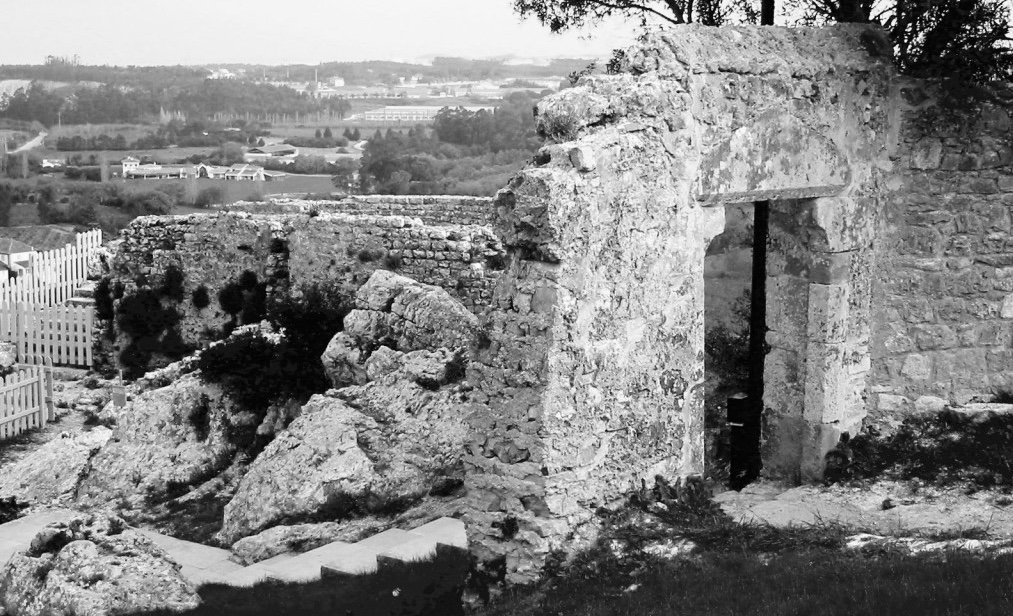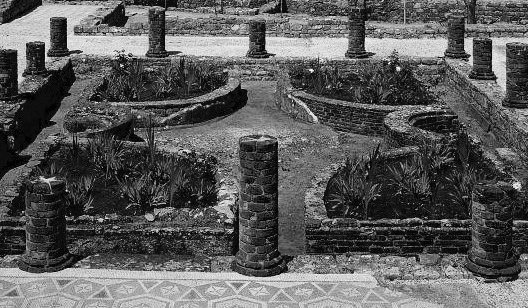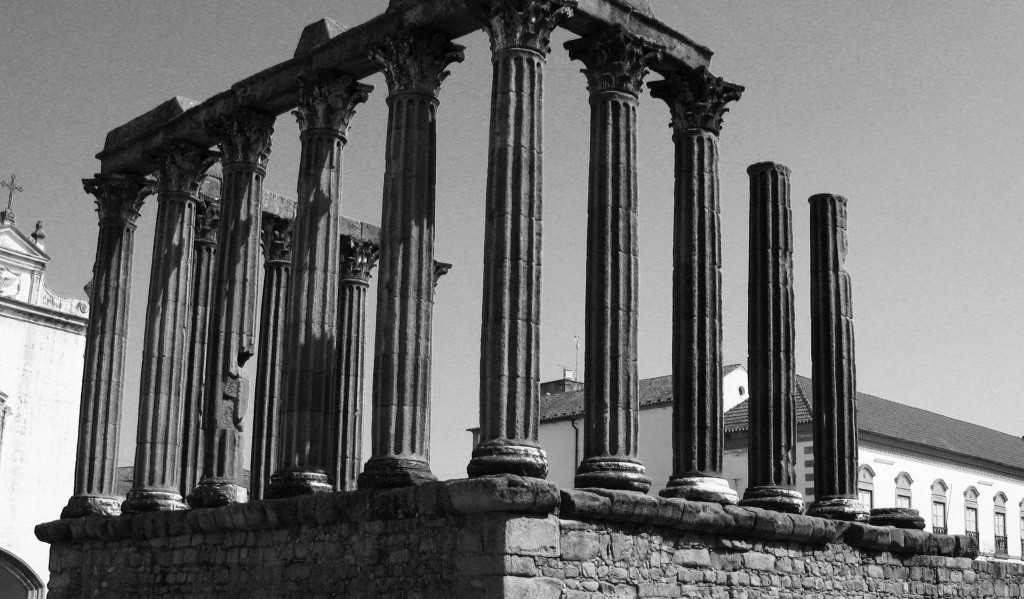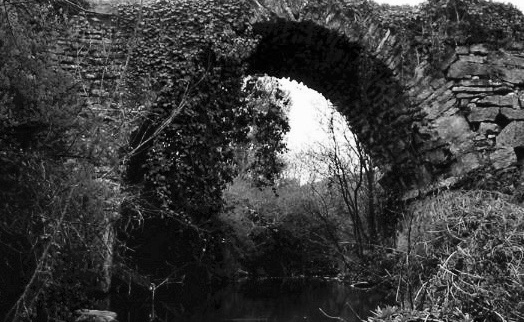 ---
Agriculture
The Romans started agriculture in the Iberian Peninsula by building large farming estates (latifúndios, Roman villas) that produced olives, olive oil, grapevines, wine, grains (like wheat), onions and garlic—all in existence today in Portugal's traditional and regional foods and cuisine.
These large Roman farming estates were located mainly in the region to the south of the Tagus (Tejo) River, considered the third largest grain-producing area in the Roman Empire. Today, these farming estates are still present, especially in Alentejo in south central Portugal (Algarve is to the south and Lisbon is to the north) where half of Portugal's wine and cork is produced.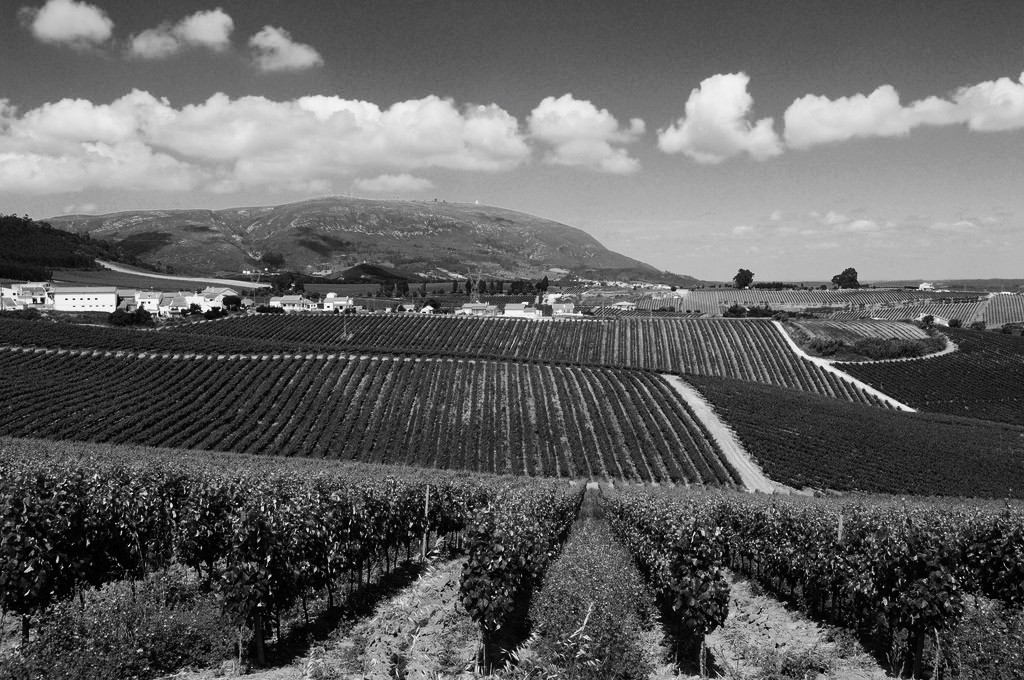 Wheat (Trigo)
The Romans introduced wheat (and barley and other grains) that was used to make bread (pão), the main staple of Portuguese food today. While cheese, wine, pork, and other foods are eaten regularly, bread is eaten daily. To signify the importance of bread to Portuguese everyday life, the Museu do Pão (Museum of Bread), situated in Seia (in northwestern slope of Serra da Estrela, the highest mountain range in Portugal) is dedicated to bread.
For centuries, Portuguese breadmaking relied on the use of sourdough as a leavening agent. Some Portuguese breads still use sourdough today while others are made with the more recently discovered Baker's yeast. Depending on the preparation and texture of a type of bread, Portuguese breads can be called cakes (bolos).
Interestingly, bread is still the main ingredient of typical recipes in Alentejo—where the Romans introduced wheat and built large farming estates as mentioned above—including in bread soups like açorda. While bread is the main ingredient, açorda is of Arabic origin, dating most likely to the Moors. (More on the Moors and their influence in a future blog in this Portuguese Food Series.)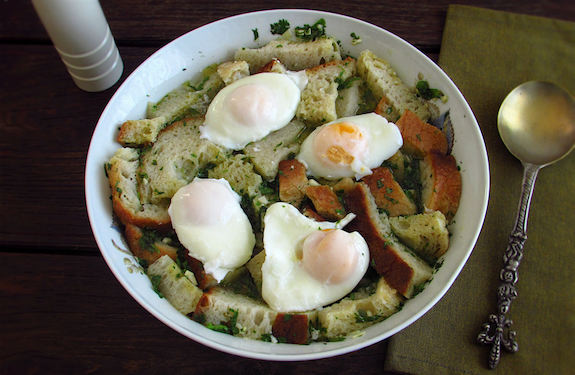 There are many Portuguese types of bread today. While each region may have its own local bread, most Portuguese breads are made with one or more types of flour—wheat, corn, rye and oat—with wheat as the most common. Let's take a look at some pãos.
Pão de Trigo (wheat bread), a crusty loaf traditionally baked in a wooden oven made from wheat cereal, is found throughout Portugal but more typical in the south.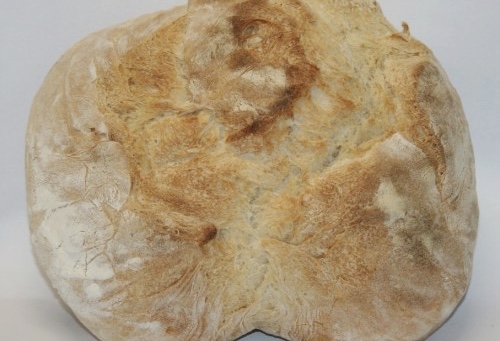 Papos secos (rolls), originally baked in brick ovens, is the most popular bread eaten in Portuguese homes and restaurants. The roll is crusty on the outside and very soft in the center. Its shape is uniquely Portuguese and made mainly from white flour today.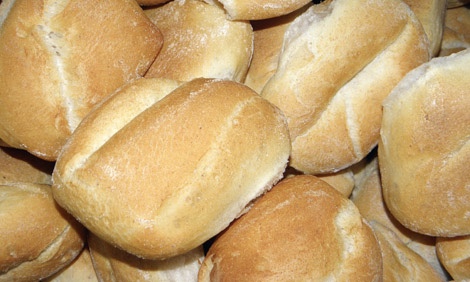 This smaller bread is not only for breakfast, but used in sandwiches (super delicious with linguiça), as a side for soups and stews, and because of its soft center, ideal for dipping and absorbing sauces. It is eaten throughout the day.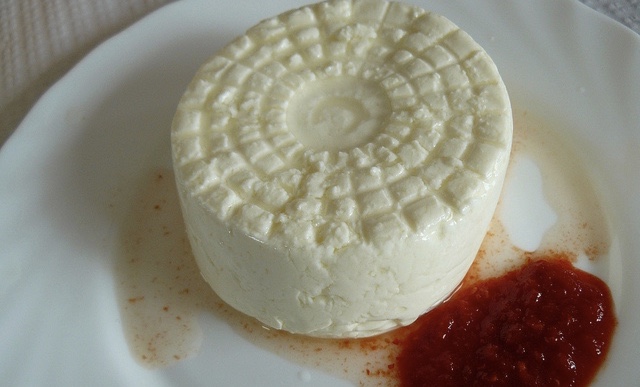 Pão de milho (corn bread) is an artisan-style bread usually made with wheat and corn flour, and believed to originate in the northern region of Tras-os-Montes e Alto Douro.  Pão de milho is an artisan-style bread usually made with wheat and corn flour, and believed to originate in the northern region of Tras-os-Montes e Alto Douro. Unlike other bread dough, scalding hot water is used to pre-cook the corn flour that speeds up the cooking, and the dough does not need to rise for hours. I have memories of eating pão de milho baked by my dad straight out of the oven, smothered with butter dripping down the sides.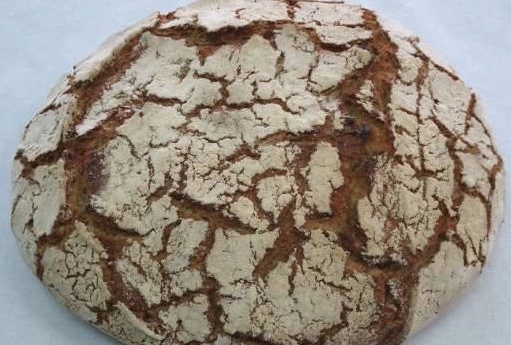 Most enjoy this artisan bread with Portuguese caldo verde, a popular soup in Portuguese cuisine, made with Portuguese couves (kale), potatoes, olive oil, salt, onion and Portuguese linguiça—a smoke-cured pork sausage with paprika, garlic and pepper. Linguiça is less spicy and less firm than Portuguese chouriço that can also be used in making this tasty soup.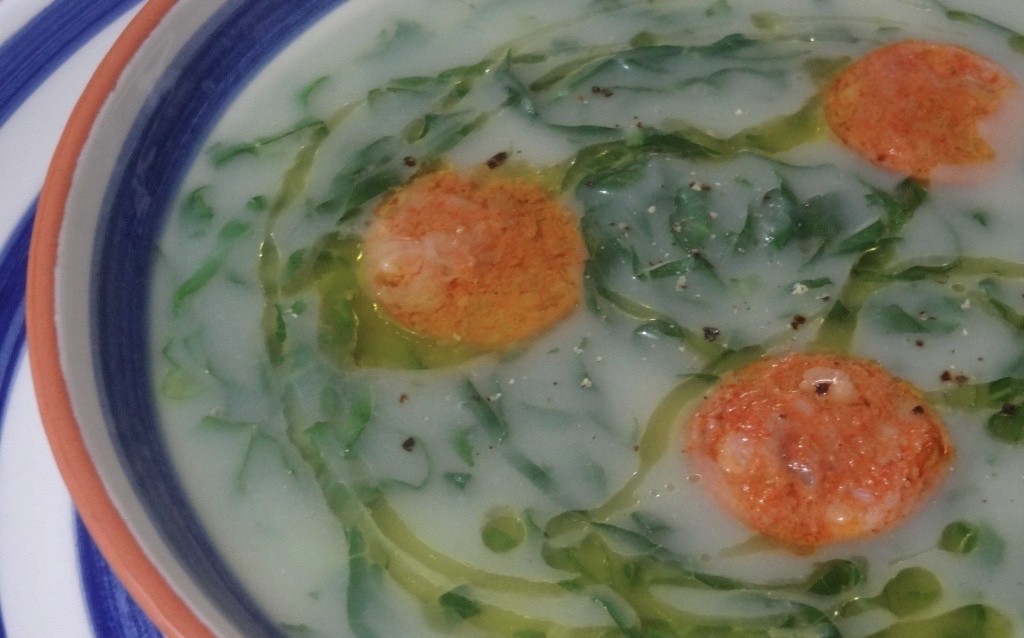 ---
Grapes (Uvas) and Wine (Vinho)
Ancient civilizations had an impact on grape growing and wine production in Portugal, but the Romans the most.
Today, there is a large array of native grape varieties (castas) in Portugal, producing different Portuguese vinhos under the Portuguese appellation system of Denominação de Origem Controlada (DOC). Each Portuguese wine region has certain castas that are authorized for wine production in that given region. An alternative way to look at Portugal's wine regions is to separate the northern regions that include Douro, Dão and Bairrada from the central and southern regions that include Alentejo, Ribatejo and Estremadura.
As noted earlier, agricultural production in the southern regions, including in Alentejo, is dominated by large producers influenced by the Roman estates in contrast to the northern regions with small producers. Let's look at Alentejo (in the south) and Douro (in the north) as two distinctive wine areas.
The Alentejo wines are of the highest quality, and this region leads Portugal's wine production with half of the country's wine.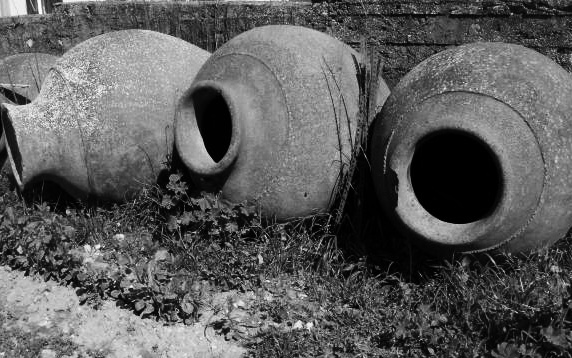 The wine in this area is traced to the time of the Romans as Roman winemaking used large clay amphoras (talhas de barro) for fermentation still used today in this area, referred to as Alentejo style. The other red style wine produced in this region is more modern and fruit intensive, and responsible for making the Alentejo one of Portugal's most important red wine regions. Large companies—including Sogrape and Aliança—have invested heavily in modern, commercial winemaking in this region, increasing attractive wine production to meet higher demand than supply from this region.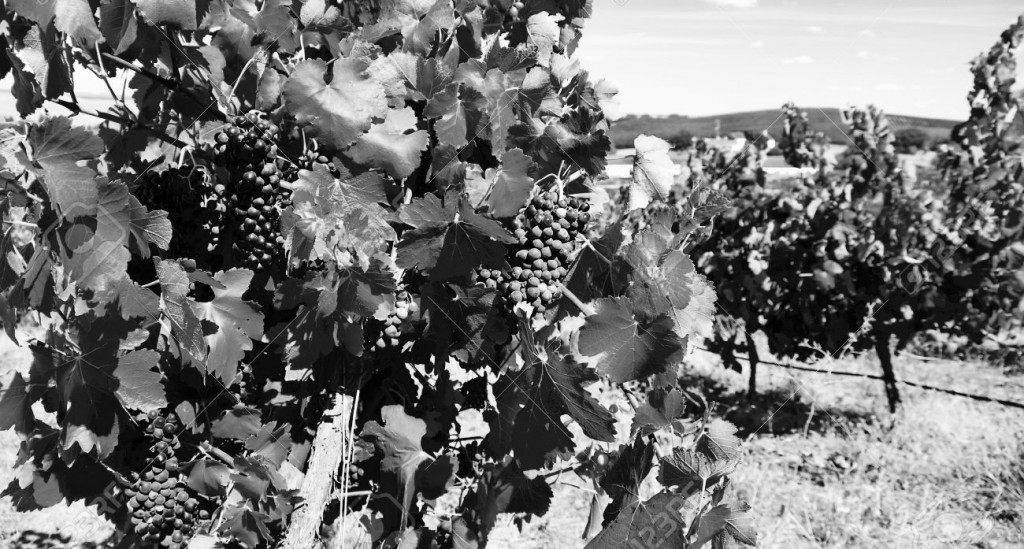 There is archaeological evidence for wine production in the Douro region dating to the end of the Western Roman Empire during 3rd and 4th centuries AD. Key to this wine production area is its microclimate as well as the Douro River that allowed the Romans to transport wine and other goods in the Iberian Peninsula.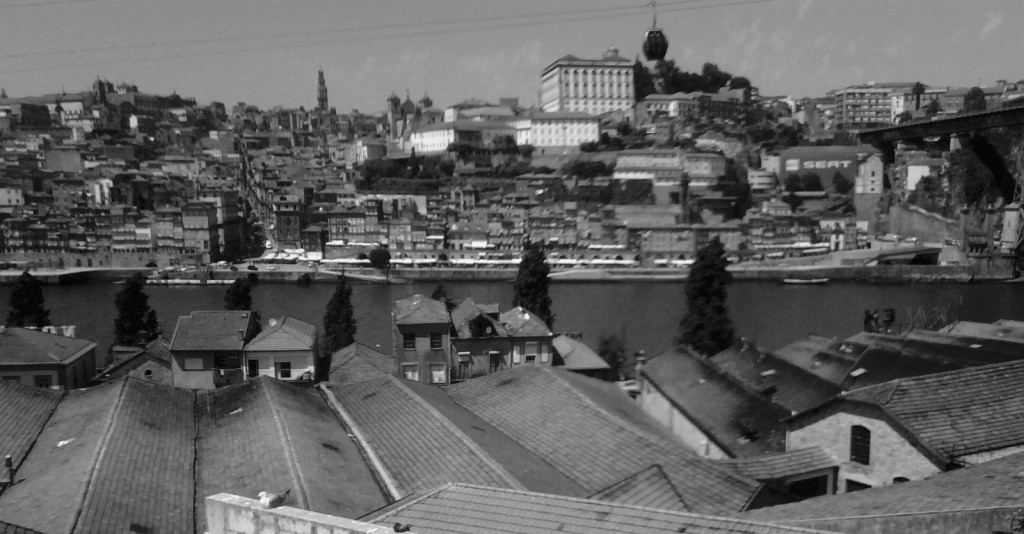 Today, the Douro wine region is best known for port wine (vinho do porto), produced exclusively in this demarcated area in picturesque quintas (farms) on vertical slopes stretching down to the Douro River. Port is a fortified wine, made by adding Portuguese style brandy (aguardente) that stops the fermentation and leaves residual sugar in the wine, increasing the sweetness and alcohol content. Port is Portugal's best known distilled alcoholic beverage, and the country is the global leader in quality port production. This area also produces non-fortified table wines.
Port is produced mainly from a handful of castas (grape varietals), and has several distinct styles, including Ruby Port (your standard red port), Tawny Port (blended port of red grapes that gets its 'tawny' coloration name from the duration it has aged), Vintage Port (your top quality port from a single harvest, aged in wooden barrel with only about 1% of all ports worthy of a vintage label, and not to be consumed younger than 15 years), and White Port (your non-traditional port made with white grapes).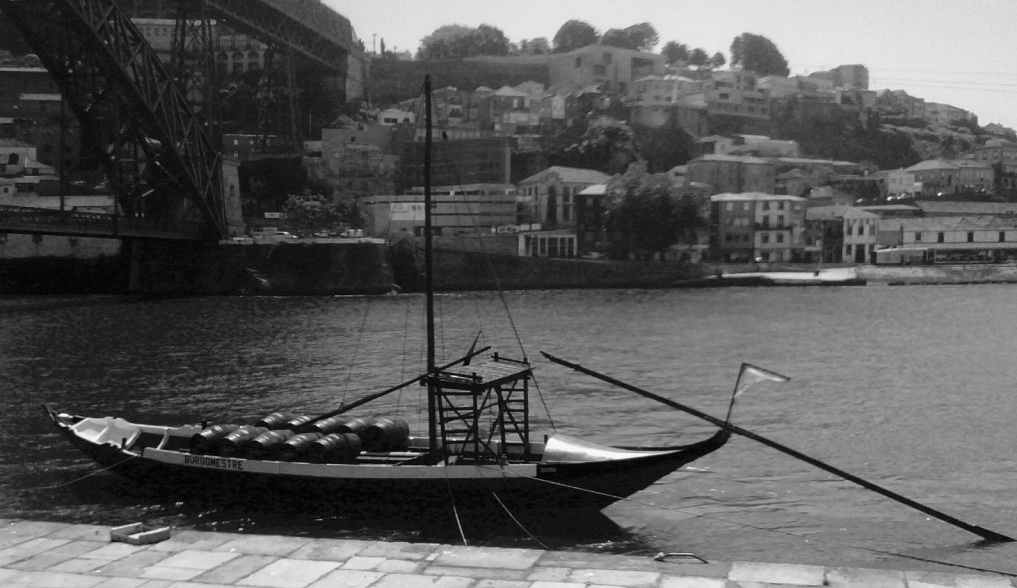 Port wine can be paired with many different kinds of food. It is most commonly served at the end of a meal (usually dinner) with a selection of cheeses, dried fruits, nuts and sweet desserts (including chocolates) or then as an after dinner wine.
While vinho verde is not a wine region or a grape varietal, a focus on Portuguese wine would not be complete without vinho verde. This wine originates in Minho in the far north of Portugal which has been producing wine since the Romans. The Romans Seneca the Younger and Pliny made reference to vines in the area between the Douro and Minho rivers. There are many small growers in Minho unlike the larger estates in the Alentejo in the south.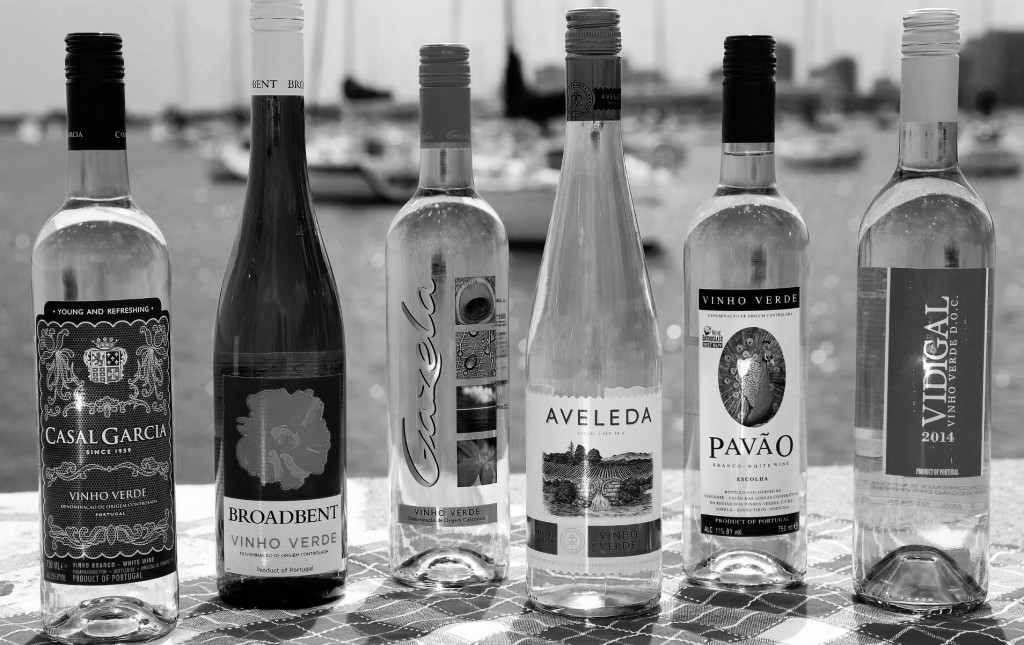 Vinho verde literally translates as green wine, and is a young wine to be consumed right after bottling. This region is populated mainly by small growers and the vines were grown traditionally on high trellises or poles (vinha de enforcado). This practice, no longer popular for cultivation and harvesting, allowed the farmers to grow other fruits and vegetables under the vines as a food source for their families.
Vinho verde can be white, red, and rosé, and there are 30 different grape varieties allowed in the vinho verde DOC with a handful of white and red grapes considered the best to cultivate. This wine can be consumed as an aperitif or with a light or more sophisticated meal. This inexpensive wine is very popular with the Portuguese, and a staple in restaurants and in homes.
---
Olives (Azeitonas) and Olive Oils (Azeite)
The olive tree has been a part of the Portuguese agricultural landscape, dating back to the Romans.  While there are many claims for the oldest olive trees, an olive tree in the Algarve is about 2000 years old according to radiocarbon dating.
There are more than 30 different varieties of olives native to Portugal.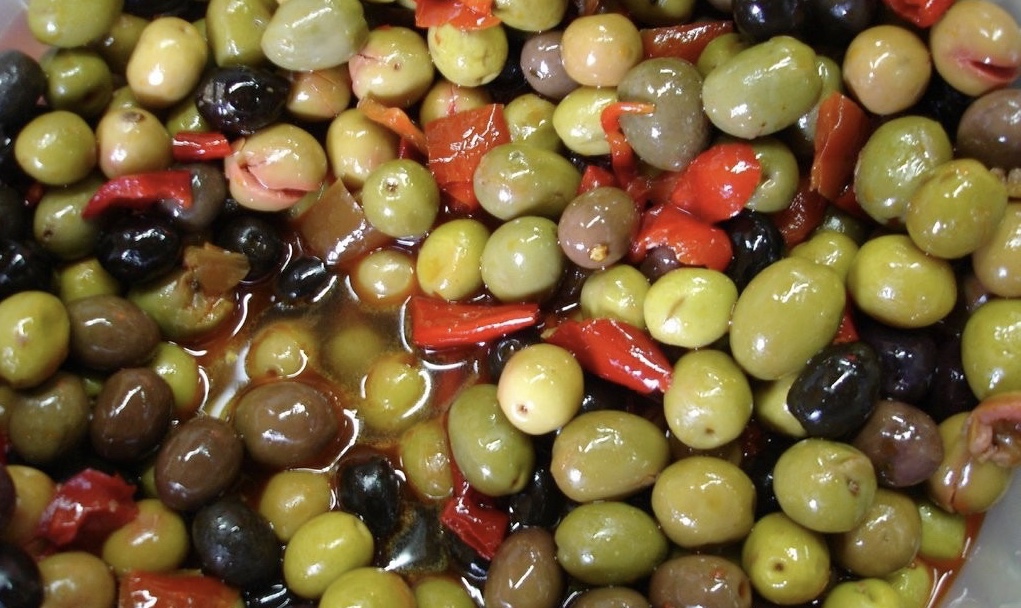 Galega, a small dark brownish black olive, is the most prolific. Galega olive trees are grown for olive oil production but they also make very tasty table olives (my favorite!).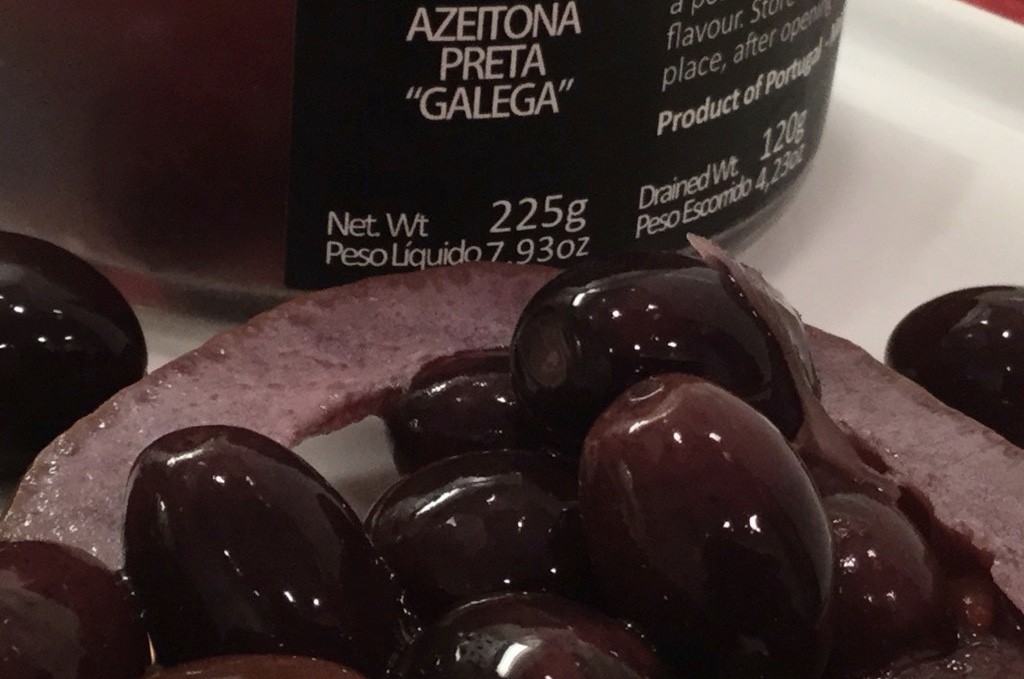 Like great wine, the soil and climate can make olives and olive oil world class. Olive cultivation and olive oil production centers in six major regions in Portugal—Alentejo Interior and Norte Alentejano, Moura, Ribategjo, Beira Interiora and Trás-os-Montes—with Protected Designation of Origin (PDO) in the production of olive oil.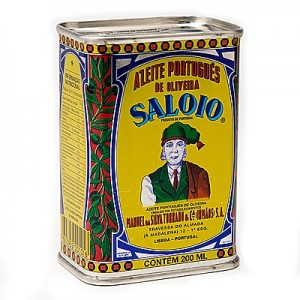 A forecast dated February 17, 2016 anticipates that olives for olive oil production could be as high as 765,000 tons in Portugal, the third largest harvest in the last 75 years. Portugal is ranked in the top 5 of the best olive oils produced in the world, and Portugal is the main supplier for olive oil to Spain as well as to other countries that sell olive oil under their own labels.
The Portuguese take olive oil very seriously. It is essential to Portuguese cuisine for cooking and flavoring meals. Olives are eaten as appetizers, served alongside dishes, and used in many Portuguese dishes, including in the cod dish Bacalhau à Gomes de Sá.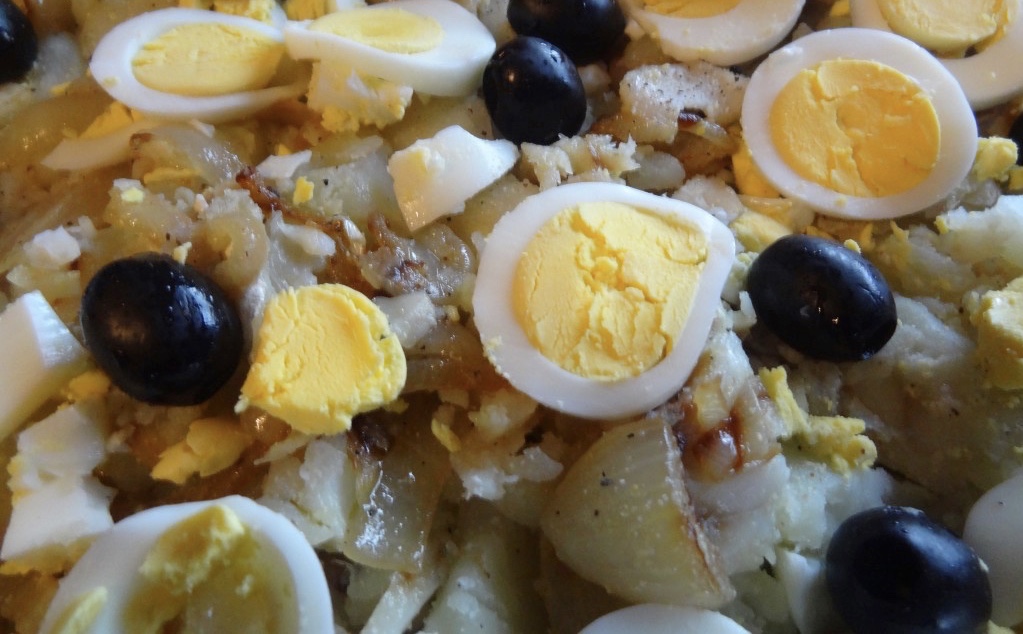 The Olive Oil Museum in Moura, located in the Altentejo, is dedicated to Portugal's olive and olive oil history and industry. ♣
---
A glimpse of Portugal. (From top left to bottom right: Street in Óbidos; old street car in Lisbon; fruit market in Algarve; wine barrels in front of Porto Cruz port house; restaurant promoting sardines, grilled fish, tapas and wine on its menu; outside patio at Porto Cruz for wine tasting and nibbles; Casa Oriental in Porto (closed in January 2016 but hopefully will re-open) that sold tea, coffee, chocolate and other delicious dry goods and produce.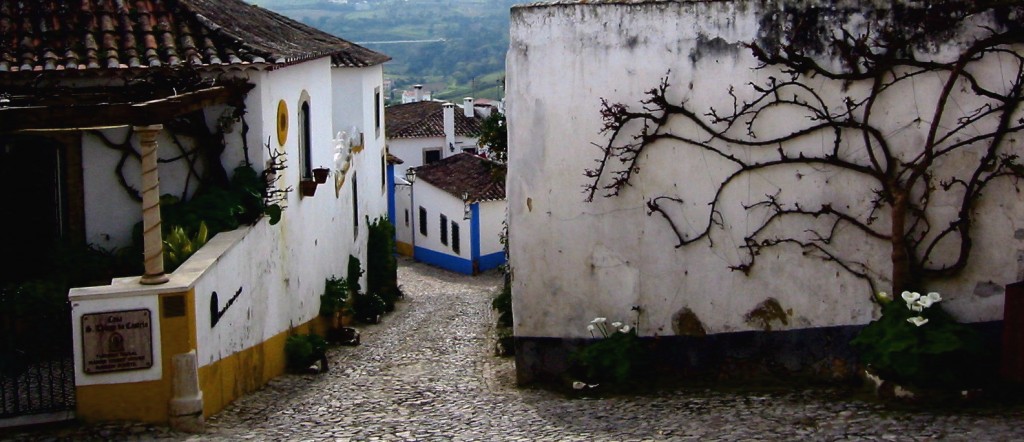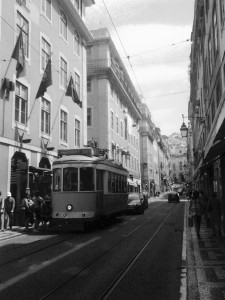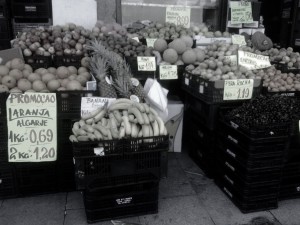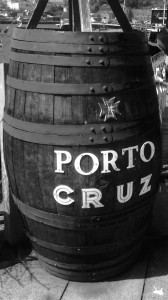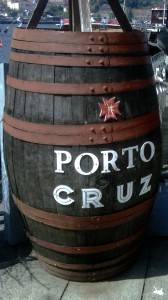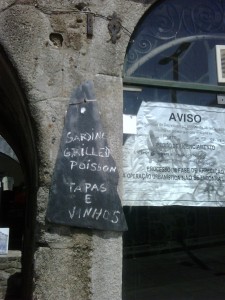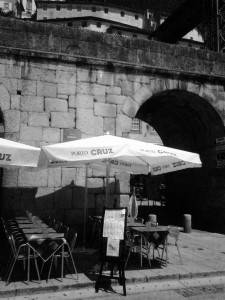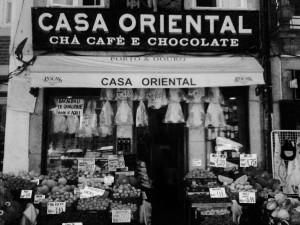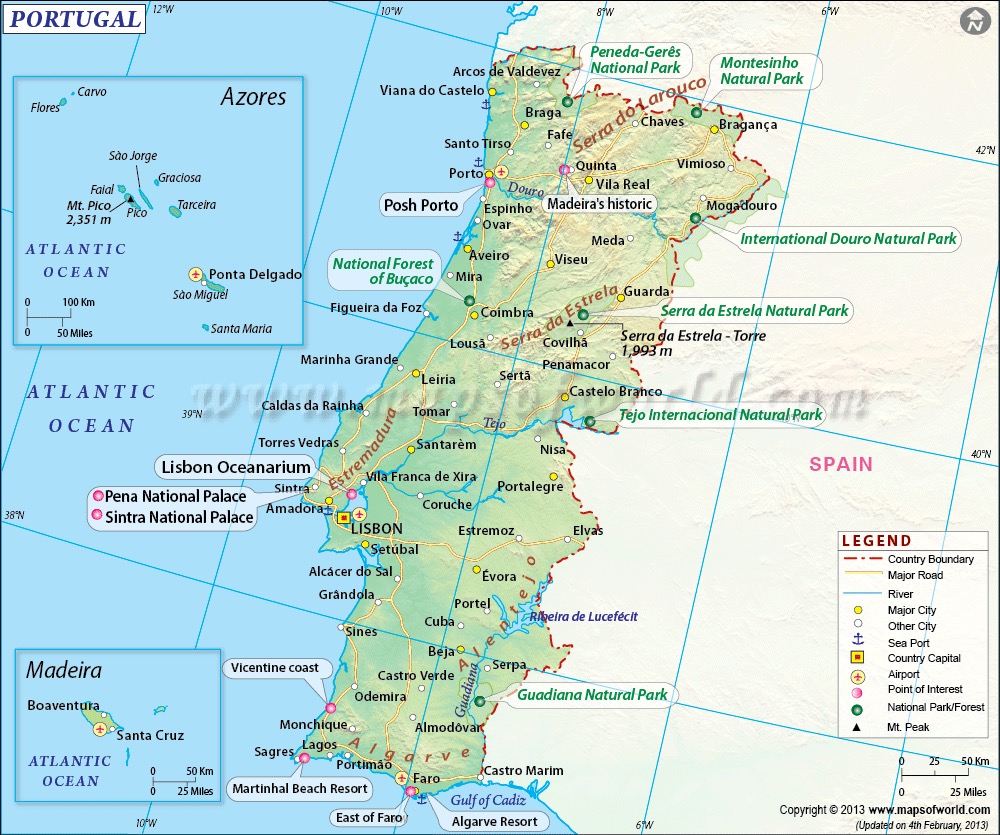 **All photos and images are copyrighted work of Venilde Jeronimo unless otherwise noted.